Of Mysore, Maharajas And Magnificence
---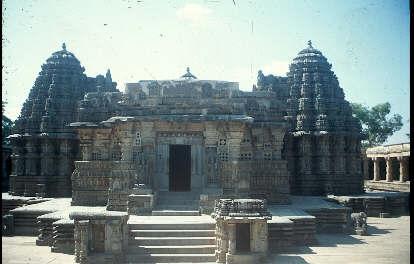 Image ©
2008 Graham Simmons
The days can start early in India! Arriving at the unearthly hour of seven a.m. in Bangalore, the green capital of Karnataka State in Southern India, I'm told by my gracious hosts that we're heading straight out of town. The point of the excursion is a visit to Mysore, city of sandalwood and ancient palaces, and ex-capital of a kingdom that was once the most powerful in India. We might even get to meet the Maharaja, who still graces Mysore Palace with his presence.
The road to Mysore so pot-holed that I suspect it was only half-completed in the first place. This impression is confirmed when it is explained that two-thirds of the money earmarked for road-building goes straight into the engineer's or local inspector's pockets, leaving virtually nothing for mere bitumen. "Such is the way of life around here!" says my guide Ramesh.
But the scenery along the roadside compensates for the rigours of travel a hundred times over. In this, the black-soil belt of India, sugar cane and palms jostle for space against a backdrop of granite hills, and the soil looks so fertile you could eat it. Villages have a distinctive style of architecture seen nowhere else in India. Houses with open courtyards, in the local Dombe Tholdi style of building, are vaguely reminiscent of something from the Middle East. In the gaudiest of bright colours, these courtyards look relaxing and inviting.
Just past the village of Ramnagaram, we decide to do a little exploring, and take a branch off the main road. The roadway now is little more than a country lane, but still carries enough traffic to enable farmers to get their rice threshed. With admirable laziness, they place the grain on the road for passing cars and trucks to run over.
We stop at a local village, one of the more than 600,000 in India, to takea look at a jaggery factory. This product of the sugar palm has a sweetness all its own, coarser and yet more subtle than sugar cane. It's one of the staples of the Indian diet, indispensable in what must be one of the most sweet-toothed countries in the world.
Our destination just now is Somnathapura Temple, a masterpiece dating back to around 1250 AD. They say it took a team of 500 sculptors over 40 years to complete the structure. The upper storeys of the Temple are built out of chloraschist, a durable form of soapstone, atop a granite foundation.
If you've visited any of the massive temples of Tamil Nadu, the smaller but more detailed Somnathapura comes as a surprise. Constructed by the Hoysala dynasty, it post-dates the Chola temples of Tamil Nadu by a couple of hundred years. Central to Hoysala temples are large star-shaped pedestals, above which rise several storeys of intricately carved friezes.
Somnathapura features carvings of elephants, horses, warriors and yalis (a mythical creature that is part crocodile, part elephant and part lion - I'm sure I've seen similar creatures at the pub). Above these friezes are scenes of human life, and right at the top panels showing episodes from the puranas, epic stories of the adventures of the gods.
Outside the temple complex itself, the whole surrounding area looks wealthy beyond the dreams of most Indians. Tractors work irrigated fields, colourfully painted bullock carts ply the roads, and a general air of purposefulness pervades daily activity. You get the feeling that some unseen hand is guiding the prosperity of this region.  
Just a few kilometres further down the road lies Mysore City, set among rolling hills and towered over by the biggest hill of them all - Chamundi Hill. This hump-backed hill is named after Chamundi (another name for Parvati, the wife of Lord Shiva).
I was privileged to stay in the Lalitha Mahal Palace Hotel. Centrepiece of the Lalitha Palace Hotel is the main dining room, with superb mother-of-pearl inlaid domes set above a huge chamber embellished with sky blue and white stucco plasterwork. The magnificent main building of this former princely palace displays an opulence normally associated only with rulers like Saddam Hussein, whose subjects are unaware of their extravagance.
But the Lalitha Palace is the legacy of a benign Maharaja. Indeed, Mysore's main claim to magnificence is the Maharaja's "other" palace, also known as The Mysore Palace or Amber Vilas, right in the centre of town and rebuilt several times since 1399 after to fire, lightning and earthquakes.
The most recent rebuilding of the Palace, in 1897, was in classic Indo-Saracenic style, following a design by the English architect Henry Irwin. On Sundays and special holidays, the palace is brilliantly illuminated by over 150,000 light-bulbs (only in India could they afford to employ the people to change the bulbs). To see the crowds of tourists from all over India and around the world gaping in awe at the magnificent Marriage Pavilion, with its red and gold walls and rosewood ceiling, is testimony to the wonders of this place - and to see a back-packer gaping in awe at anything is pretty amazing, too!
The current Maharaja now lives in another palace, built for him by the Government. Despite the stuffed elephant heads you see in the Amber Vilas, souvenirs of the Maharaja's hunting exploits, he is now a reformed man, and even served a time as head of the World Wildlife Fund.
Nowadays, sandalwood is Mysore's main raison d'être. Its fragrant perfume permeates the city, and in the emporiums dotted around town you can buy almost anything made of sandalwood, including statuary, cigar boxes, lampstands, even furniture, as well as the ubiquitous chandan, or sandalwood incense.
Atop Chamundi Hill sits Chamundeswari Temple, dedicated to the goddess Durga (Chamundeswari). A full 1,000 metres higher than Mysore, this place buzzes with an extraordinary energy. At the time of our visit, the temple grounds swarmed with black dhoti-clad followers of the Keralan cult figure Sri Ayyappan, on the long and arduous pilgrimage across South India's mountains to Ayyappans shrine at Sabarimalai. Coaches from all over India bring additional crowds of visitors to the temple, where  priests dispense blessings to the faithful throng. A walk around the temple is recommended, this being compared by the local cognoscenti to an electron going around the nucleus of an atom.
On the side of Chamundi Hill is the statue of the wise old bull, Nandi. Bulls and cows are really smart if they can get reborn in India, where they can live a pampered existence proper to their tranquil disposition. This black-granite Nandi looks contented and peaceful, happy to be surrounded by his friends. A sign on the wall of the statue-enclosure proclaims this place as a Karnataka protected shrine, with a penalty for infringement of "three months imprisonment or Rs 2,000 fine, or both".
Mysore is the jumping off point for excursions to many other places of interest. Within easy reach of the city are a bird sanctuary and three wildlife sanctuaries, including the Bandipur Game Sanctuary (80 km from Mysore on the Ootacamund Road). This, one of Indias largest game sanctuaries, is dedicated to the preservation of the Indian tiger, and is also home to bison,  spotted deer, elephants, black panthers and leopards. Good accommodation is available in inexpensive Forest Lodges.
Mysore's other sights include St Joseph's Cathedral (formerly St Philomenas Church), the  largest church in South India, and just 19 km out of town the impressive Brindavan Gardens, floodlit at night.
Just linger a while in Mysore, and you start to unwind. An evening stroll through the city's many parks, thronged with cricket players and couples decked out in their best finery, is a sheer delight. You may well find that, when you finally take your leave, some of Mysore's magnificence has rubbed off!
* * *
Fact File
Getting There:
Royal Air Brunei flies regularly to Calcutta, from where the excellent Indian domestic airline Jet Airways connects daily to Bangalore.
Mysore is just 140 km from Bangalore. You can get from Bangalore to Mysore by car or bus (services every ¼ hour, or deluxe service every hour  from Karnataka State Road Transport Corporation [KSRTC] stand at the City Bus Station).   By rail, trains leave at 0700, 0825, 1105, 1425 and 1830, taking about three hours for the trip.
Accommodation:
First Class: Lalitha Palace Hotel, tel +91 821 571265 or +91 821 571271, Fax +91 821 571770: Rooms Rs 2,550 to Rs 12,000. Highly recommended, if only for a brief stay.
Good Value: Green Hotel, Chittaranjan Palace, 2270 Vinoba Road, Jayalakshmipuram, Mysore-12, tel +91 821 512 536, fax +91 821 516139.
Budget: Hotel Siddartha, Nazarbad, Mysore-12, tel +91 821 522888.
Out-of-town: Jungle Lodges and Resorts, Tel +91 805 597021, fax +91 805 586163, or see www.junglelodges.com
Hours:
Chamundeswari Temple: open 0730-1400 and 1530-1800
* * *
Acknowledgement: The author travelled to India as a guest of the Government of India Tourist Office.
* * * * *
---