Silent Retreat at Seven Fountains
---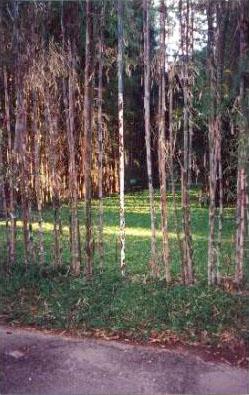 Chiang Mai is laid back, quiet and its people friendly. Along a busy (well, at least in Chiang Mai terms) thoroughfare of restaurants, shops, night markets and the Chiang University reside the Seven Fountains.
Seven Fountains is a retreat center run by Jesuit priests, a Roman Catholic religious order known more formally as the Society of Jesus. There are four resident priests at the moment, all of whom are foreigners but whose grasp of the Thai language is excellent. The four priests, among themselves, boast of a century's stay in Thailand.
Noise from the outside is shielded in part by tall trees that surround the 8-acre sanctuary of solitude and peace. Once inside the place and forgetting the world outside, the center is a cloister that brings the bodily five senses to life. Eyes and hands can see and feel dew-sprinkled trees and grasses in the mornings. Ears can hear the sounds of chirping birds and running waters from a fountain in front of the main church. The nose can smell the forest of trees and dried leaves and finally, as is expected of spiritually uplifting retreats, a pilgrim gets to tastes the love of God in the wonders of nature and in the silence. Occasionally, a squirrel or a tree lizard or a snake could be spotted. A spiritual pilgrim making a private retreat can expect quiet mornings, lazy afternoons and slow evenings.
Retreatants spent the day in deep communication and dialog with the eternal God whose presence is felt ever so strongly in the midst of quiet, serenity and prayer. The code of conduct, spelled out clearly on day one of the retreat, is that retreatants maintain silence, to the point of not addressing anybody else in the Center, not even the friends you know. Retreatants are discouraged from leaving the Center when they are doing their retreat. This is to keep the heart, mind and soul quiet both inside and outside so that the "voice" of God could be better heard.
There are many forms of prayer. Contemplation is one of them and droves of faithful Christians flock to Seven Fountains for an annual respite from the hustle and bustle of daily life. Believing Christians with a deep desire for things of God understand the need to be away-from-it-all occasionally and to sit still and marvel in the love and mercies of God. Often, daily prayer seems insufficient because of the rush of the day. A silent, week long retreat is the answer to spend quality quiet time with God - to read and listen to His Word, to re-charge "spiritual batteries", especially for those in the Lord's ministry, and to seek direction in life. It is also a time to count one's gifts and give thanks to the Higher Almighty who is the Source of all blessings.
It was with this need to get away from it all that I made my silent retreat in November 2000. Silent retreats had been avenues that bring new springs and surprises to me. I have always marveled at the way inspirations for writing had cropped up. I sat in awe of the wonders of fresh spiritual insights that I gained from the Bible and the affirmations that I received from my Spiritual Director. I believe the latter, in part, comes about because in the silence and in my spiritual search, I open my heart and I am no longer inhibited by set norms of society. I am prompted by the Holy Spirit of The Word Himself. In this new finding, I can become a new person (a new creation as St Paul put it the Bible) if I allow my new-found knowledge to take root in my being. Alas, it takes every inch of consciousness to allow the new me to shine through in my dealings with other people after I step out of the retreat cloister. The cycle of dying and rising to new life goes on. Hopefully, with each retreat that I undertake, I become more aware of my calling to be Christ-like.
The retreat at Seven Fountains brought upon me an inspiration to draw. I could not believe it at first. I, whose drawing is comparable to a kindergarten student, could draw? But I subjected myself humbly to that soft prompting to take up pen and I drew. Today, I read books on drawings. I intend to self-teach myself the basics of drawing first before going on to formal courses.
Seven Fountains offers directed retreats, that is, one of the priests serve as Spiritual Director to the retreatant and direction is on a one-to-one basis. The retreatant meets with his assigned Spiritual Director once a day for half an hour. The Director is an experienced and gifted person who is trained in guiding others along the spiritual path. The retreatant shares with his Director any happening of significance on the different levels of his life and during his prayer time. The Director affirms and helps to draw out any difficulties, hindrances and attachments that prevent the retreatant from moving forward in his spiritual path.
Cloister retreats are getting popular. Seven Fountains have seen an influx of people from non-Catholic denominations and faiths who seek a spiritual path. In years past, retreats of such nature used to be synonymous with priests, nuns and religious but not any more. These days the Center entertains a regular batch of lay people from all over the world. Some return year after year.
Seven Fountains is one of several Catholic retreat centers in the Asia/Pacific region. Over the years, Hwey Kaew, the road it sits on, has seen a mushrooming of restaurants, eateries and shops but this has not deterred the guardians of this sanctuary to keep and maintain the peace, serenity, quiet and prayerfulness of the place. The Center has one main church where the locals come to worship on Sunday mornings and three smaller chapels. The smaller chapels are used to celebrate daily masses in English and Thai. Apart from the main administration building there are three blocks of dormitories for retreatants to stay. Males and females are put in separate quarters and each retreatant gets a single room with an attached sink. Bathrooms are shared properties and are located at the end of each level of the dormitories. There is a small library and a dining room for retreatants. At the far end of the ground is a grotto of Our Lady of Lourdes and there are plans by the Center to refurbish the open field next to the grotto with ponds and shades. Interspersed about the grounds are benches on which one could sit in silent adoration of nature. In all its simplicity, facilities at the Center are clean and comfortable and the food is good.
If you need some peace and serenity in your life, or if you are looking for spiritual direction and solace, come, tread the prayerful grounds of Seven Fountains and be re-vitalized in body, mind and spirit.
***
Fact File
Seven Fountains
Denomination/Spirituality: Catholic/Jesuits (Society of Jesus)
Address: 97 Hwey Kaew Road
Tel: 053 - 211 076 or 892 545
Fax: 053 - 892 546
Spiritual Direction provided by a Jesuit priest. Retreats run from 4 or 8 or 30 days but other arrangements could be made.
Direction given is based on the Spiritual Exercises of St Ignatius. The Center offers both individual and group retreats to people of all persuasion.
***
An Update from Diana (February 1, 2006):
Contacts and cost information have changed. Please visit 7fountains.wordpress.com/ for more up-to-date information.
* * *
The Society of Jesus is a Roman Catholic religious order founded by St Ignatius of Loyola. Its members are popularly known as the Jesuits.
- The End -
* * * * *
---