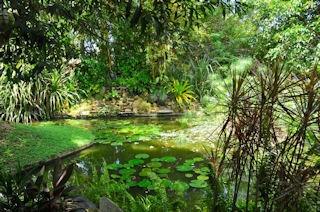 Image ©
2011 Ronald de Jong
Many local and foreign visitors describes South Cotabato as a "place like no other", an area with a wide range of both natural and man-made attractions which litter the Mindanao country side; nowhere else on this tropical island will you find so much diversity in just one province.
Some visit South Cotabato for the unlimited photo opportunities, others come to enjoy the great flora, fauna and beautiful scenery's, however, there are evermore amazing places to see and many things to do. This province of plenty always had a reputation for being a very unique tourist adventure; it has proven to be an exciting travel hot spot for eager visitors wanting to experience all that this part of Mindanao has to offer. The culturally rich and eco sensitive attractions will captivate your mind and provide you with long lasting memories, even the most seasoned traveller will be stimulated by the sights and sounds of this wonderful island. South Cotabato has some excellent resorts for romantic getaways and outdoor relaxation, each locality offers great entertainment for the whole family and is distinctively attractive. Whether you're a first-time guest or a long-term visitor who comes to stay year after year, you will find there's plenty of excellent, comfortable recreational occasions and always something fun, interesting and entertaining going on in the resorts and other attention-grabbing attractions that never fail to impress its visitors.
Carpenter Hill, just outside the city of Koronadal, along the national Highway, is the location of The Farm, a sprawling Japanese-inspired hideaway. The hotel has different styles of accommodation that will allow you to indulge yourself in the lap of luxury; there is a garden resort convention centre, a pond filled with multi-coloured fish, a park and an aviary.The location is clean, well maintained and the service is excellent. Its restaurant serves an enticing variety of appetizing refreshments like fresh fruits, vegetables, fish and meat dishes. The Sushi Bar offers its guests a diverse selection of food and drinks. This nature friendly resort has a rustic atmosphere that will give you the impression you are worlds away from today's hustle and bustle. The Farm is a convenient and unique holiday spot, it will allow you to encounter the unexpected, a resort a worthy of an exhilarating experience, it is ideal for family outings and for spending precious moments with your special someone. While appreciating the beauty of the environment and feel the fresh air of nature, you will surely love and enjoy the natural setting of the place. The picturesque surroundings offers a myriad of flowers, shrubs and lush green trees are providing peace and charm, you will feel immediately welcome and shall be easily enchanted by its quiet beauty. This resort is well insulated from the din and dust of city living, yet easily accessible by road, a much sought after hideaway in close proximity to Koronadal City. It is just one of those great whereabouts to unwind and take a break from the maddening crowds. A day at the Farm is a must if you are seeking a harmonious place that will bring you an authentic culinary adventure.
Wholesome family leisure can be found at the multifaceted Paraiso Verde Resort and Water Park, a piece of paradise in the outskirts of Koronadal City, an oasis of recreation and relaxation for all ages. This family oriented retreat, the largest recreational water park in the region, accommodates its guests with a Wave Pool, a Raging River, a Kid's Paradise and a Lap Pool. The Cinco Niñas Filipino Cuisine Restaurant that is located inside the resort is available to all guests and serves a collection of authentic, mouth-watering specialities. All in all, the Paraiso Verde resort is packed with excitement, it offers a great way to beat the heat of the warm, Southern Mindanao climate, this resort is all about thrills, chills, and making a big splash! It is also a perfect place to take the family for a relaxing and memorable stay, from the moment you arrive you will enjoy the warm hospitality, always wearing a friendly smile the committed staff is promising to give you off-the-chart family fun that you will never forget.
Located on the beautiful shores of Lake Sebu, the Estares Resort is your gateway to experience the breath-taking views one of the most scenic spots in the region. In this inland sea abundant growing water lilies bloom just after sunrise, dug out tree trunks are used as boats by the fishermen that maintain the bristling tilapia fish pens. It is no surprise that this fair sized freshwater fish is one of the most delicious dishes served. The  restaurant will give you a slightly unusual dining experience; expertly prepared meals are served in an ambiance of tranquillity and charm. The menu boasts a very delicious and wide array of the local cuisine, catering for a variety of tastes. The disco bar is a great place to have some fun with other visitors and locals; here you can have a few beers, some soft drinks, good cocktails and dance the night away on golden oldies and modern tunes. Once the sun sets you can take time out in the palm thatched resting pavilions, enjoy the pleasure of being outdoors, see the true beauty of nature, feel the sprinkle of the evening mist and sense the gentle touch of a cold breeze in a mesmerizing world of water, mountains and the magic of nature. The staff is very friendly and helpful, a rustic place with unpretentious cordiality for those looking for a soothed stay in a peaceful surrounding, the resort is an amorous escape amidst earth's splendour. It is just one of those great whereabouts to unwind and take a break from the maddening crowds.
If you like to bait the hook yourself and want to catch your own snack, the Dolores Farm resort in Polomolok is the place to be. The Monthong ponds at the resort are teeming with bangus and tilapia, after you got your hands on the fish, you will enjoy the freshest banquet you've ever eaten. More savoury seafood and other Filipino delights are served at the Chanee restaurant; their appetizing breakfast has earned a prominent place in the hearts and minds of both locals and tourists alike. The attentive and well trained staff is dedicated to provide their visitors with the best food, using the highest quality and fresh ingredients that will make any dining experience a pleasant one.While visiting the Durian orchard right next to the resort, you can enjoy the cool air and learn more about the king of local fruits, tasting the freshly picked, delicious Durian is a tantalizing encounter. A visit to the mini zoo is a great time of fun and education for kids of all ages.  Grab the chance to get up close to the feathered and furry animals, explore all of the different shapes, sizes and colours and try to find out who's watching who. The warm, sunny days are a perfect excuse to take to the water, the Kanyao Swimming Pool and Water Park is fabulous for taking a dip or just to cool off, stretch your wings and calm down your senses.
South Cotabato is a versatile province that has something for everyone, with alluring places and interesting people, loaded with numerous, easy to drive to destinations that can combine comfort and pleasure to a holiday or day trip.
---