Trains, Trams and the Travelator: Public Transit of Hong Kong
---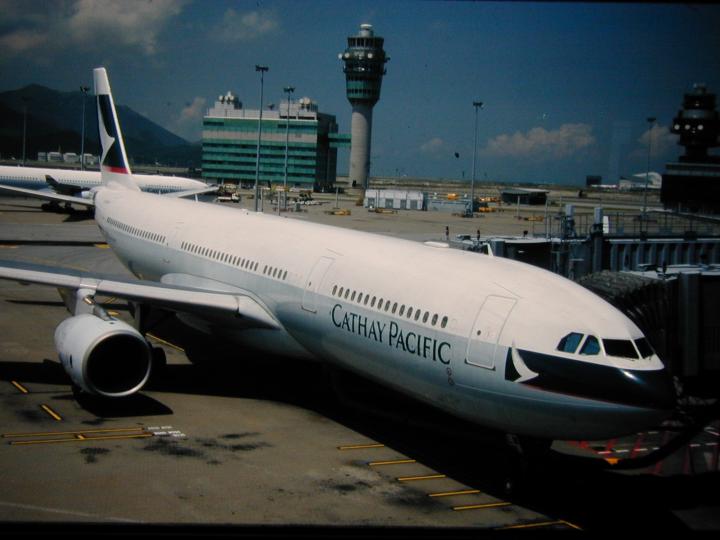 Image ©
2006 Steven K. Bailey
In most cities you take public transit to get to the local attractions, but in Hong Kong public transit is often an attraction in itself.  After all, where else can you ride a 100-year-old electric tram, a half-mile-long escalator, and a double-decker bus that whips along narrow roads carved from jungle-covered cliffsides?
Of course, Hong Kong's public transport system also offers many practical ways to get from A to B.  In fact, few cities anywhere in the world offer such a diverse, affordable and efficient range of transport options.  Subways, buses, taxis, ferries and trains -- Hong Kong has got them all.
Negotiating the city's labyrinthine transport network takes some practice, but you can dramatically improve your learning curve by purchasing an Octopus Pass.  The Octopus is a stored-value smart card that automatically deducts subway, bus, train and ferry fares.  You just wave your card over the scanners mounted at subway turnstiles and bus doors to pay your fare.  Purchase the cards at any MTR subway station service center for HK$100, plus a HK$50 refundable deposit on the card itself (a total of US$20).  When you've run down your hundred dollars of stored value, you can reload your card at the automated add-value machines found in subway concourses.  For sheer convenience, the Octopus Pass cannot be beat.
Armed with your Octopus Pass, you are ready to ride.  Some of your transport options are strictly for fun, such as the Peak Tram, which trundles up Victoria Peak for an eye-dazzling display of the neon-lit city  skyline.  Others offer a mix of fun and practicality, such as the famous Star Ferry that crosses the harbor between Kowloon and Central.  And some options are merely practical, such as the MTR subway system.  But no matter what your reason for traveling around Hong Kong, the many transport options below will get you to your destination quickly, safely and cheaply.
AIRPLANES: One quirk of Hong Kong, an enclave of just 400 square miles on the coast of the South China Sea, is that its world-class airport doesn't offer a single domestic flight.  You can fly from Sydney, San Francisco or Shanghai to Chek Lap Kok International Airport, but you can't fly on to anywhere else in Hong Kong.  After all, the pint-sized territory only has one airport.  So while you can get around Hong Kong by land and by sea, you won't be getting around by airplane.
HELICOPTERS: Of course, if you have some spare Hong Kong dollars to burn, you could always charter a helicopter.  East Asia Airlines, Heliservices and Heli Hong Kong all offer point-to-point service and flight-seeing trips for those willing to pay.  In a matter of minutes you can be whisked from the airport to a landing pad atop the Peninsula Hotel or your office building in Central.  Along the way you'll enjoy spectacular views of the territory's mountainous islands, but you'll need more than an Octopus Pass to pay for the privilege.
AIRPORT EXPRESS TRAIN: Your introduction to Hong Kong's transit system will likely begin with a ride on the sleek Airport Express.  You can board this futuristic train right in the airport terminal and then sit back for a 23-minute journey to the city center.  You'll have a high-tech, high-speed experience that is pure Hong Kong, from the televisions in the headrests to the automated ticketing system.  This local version of the Bullet Train moves so quickly that when it enters a tunnel you can feel the air pressure squeeze your ear drums.  Seatbelts aren't required, but you will have to pay up to HK$170 (US$22) for a round-trip ticket.
MTR: The Mass Transit Railway (MTR) burrows under the city in a labyrinth of pedestrian walkways, train platforms and railway tunnels.  The five lines of the MTR comprise the heart of Hong Kong's transit system and connect to virtually every other form of conveyance.  The system is clean, safe and efficient, but it can also be confusing, crowded and claustrophobic, particularly during rush hour.  If you need your personal space, stay away from the MTR at the start and end of the workday when over two million commuters ride to and from their jobs.  No matter when you take the MTR, however, expect to be assaulted by a barrage of ringing mobiles and shouted phone conversations.  And expect the trains of this privately owned corporate venture to run on time, because they always do.  Ticket costs range from approximately HK$5 to HK$28 (US$0.65 to 3.60).
KCR: Despite its name, the Kowloon Canton Railway doesn't actually run all the way to Canton (now known as Guangzhou) in mainland China.  Instead the KCR runs from Kowloon out to the border crossing at Lo Wu, where passengers have to walk across the frontier into China proper.  On the way to Lo Wu the KCR stops at various stations in the New Territories, the hinterland of Hong Kong that many visitors never take the time to see even though the KCR offers quick and cheap transport out to such destinations as the Hong Kong Heritage Museum, Shatin race course and Tai Po market.  The KCR is the arch-rival of the MTR, which may explain why you can only transfer between the two systems at Kowloon Tong Station.  This rather inconvenient arrangement does allow you to stop in at the adjacent Festival Walk mega-mall, however.  Ticket costs range from approximately HK$10 to $35 (US$1.30 to $4.50).  If you opt for first class, expect to pay twice as much.
DOUBLE-DECKER BUSES: Reminiscent of London, these brightly colored buses are one of the few obvious vestiges of Hong Kong's 156 years as a British colony.  Double-decker buses and the increasingly common single-deck buses run to locations throughout the territory.  As is true of virtually everything in Hong Kong, the buses are air-conditioned and loaded up with high-volume televisions pitching everything from mobile phones to instant noodles.  Try to grab the front-row seats on the top deck, as you'll get a great view without having to watch the TVs.  If you neglected to purchase an Octopus Pass, you'll have to pay the fare in exact change upon boarding.  Don't even think of asking the driver for change.  Pick up a handy listing of bus routes, schedules and fares at one of  the Hong Kong Tourism Board offices located in the Kowloon Star Ferry terminal and basement of The Center at 99 Queen's Road, Central.  For a particularly scenic ride, take bus #15 from Exchange Square to the top of Victoria Peak.  You'll be rewarded with a hair-raising ride on curvy cliff roads that at times will seem more like a carnival ride than a bus journey.  The routes across the island to Stanley also offer great views, especially of the waters to the south of Hong Kong Island.  Ticket costs range from HK$1.20 to $45 (US$0.15 to US$5.80), depending on the distance traveled.
PUBLIC LIGHT BUSES: A public light bus may well offer you the best deal on the road.  These cream-colored minibuses are cheaper than taxis, but quicker than regular double-decker buses.  Just as importantly, the ubiquitous public light buses go just about everywhere, no matter how obscure.  You are even guaranteed a seat, since drivers will only let you board if there is an empty seat available.  Standing passengers are not allowed on public light buses, principally because the drivers tend to pinball around the city's tiny roundabouts and stop short without warning.  Public light buses do have some disadvantages, however.  They tend to be banged up machines with a lot of kilometers on the odometer.  Unsurprisingly, many sway precariously when they corner on springs softer than rice noodles.  And while every light bus posts its route number in Arabic numerals, many do not bother to list their destination in English.  So if you don't know what route number you want, you won't know what minibus to take.  But even if you do get on the wrong light bus, you'll still be entertained.  After all, like the larger double-deckers, public light buses now sport ceiling-mounted TVs for passenger enjoyment.  Indeed, light buses can offer a fascinating mix of high- and low-tech features.  When passengers opt to pay with coins rather than the electronic Octopus Pass, for example, some drivers clear the metal fare box by yanking on a length of twine threaded through a series of jerry-rigged pulleys.  Fares range from roughly HK$2.50 to 23.00 (US$0.32 to 3.00), depending on the distance traveled.
ELECTRIC STREET TRAMS: No trip to Hong Kong would be complete without a sight-seeing journey aboard these rolling museum pieces, which have been running along the north side of Hong Kong Island since 1903.  In fact, the tram tracks trace the original harborfront, which has long since been lost to land-reclamation projects.  So if you wonder about the odd curves in the road, know that you are tracing what used to be the high-tide line.  Catch a tram at Central and ride it either east or west to the end of the line. Make sure you sit on the top deck in order to get a bird's-eye view.  Go at night if possible, when the trams are less crowded and the neon ablaze in all its incandescent glory.  At a flat rate of HK$2 (US$0.25) per ride, the trams vie with the Star Ferry for the honor of being the city's best transport deal.  Of course, you do get what you pay for.  During the summer the lack of air-conditioning can turn a tram ride into an endurance test; in the winter the lack of heating can make for a chilly ride.  Regardless of the season, the trams are often standing-room only.  If you can't find a seat you'll definitely want to hang on to something or someone as your tram lurches violently down the tracks, but even if you do find space to sit down you'll still feel every bump and jolt through your hard wooden seat.  Beware the low ceilings, too.  Board trams at the rear; pay as you exit at the front.  All trams accept Octopus Passes.
LIGHT RAIL TRANSIT: The LRT is a modern-day version of the electric street trams running on Hong Kong Island, which means it offers air-conditioning along with faster speeds, smoother rides and more comfortable seats.  However, the LRT doesn't offer much in the way of character.  This is strictly an efficient way to get from A to B, or rather from Yuen Long to Tuen Mon.  Currently the LRT only runs between these two mini-cities in the New Territories, which ensures that relatively few visitors to Hong Kong ever have reason to ride these smart-looking trams.  This will soon change, however, when the KCR West Rail project links the LRT to the KCR and MTR lines.  Fares range from HK$4 to 6 (US$0.50 to 0.75).
PEAK TRAM: This is one form of transport that really makes the grade, and a steep one at that.  More funicular than tram, these machines climb the side of Victoria Peak on tracks that at times seem to be heading straight up.  The tramway was originally built in 1888 to haul the colonial elite up to their mansions on the cooler flanks of Victoria Peak, the highest point on Hong Kong Island.  These days relatively few residents use the fire-engine red tram to commute and virtually all passengers are tourists heading up to see the spectacular night-time views of the city skyline.  Like the Star Ferry, this is a quintessential Hong Kong experience that should not be missed, though be warned that boarding the tram can be a bit of a scrum.  If you wind up as a standing passenger, don't worry; you'll find that the floors of each carriage have been angled to help you keep your footing during the steepest parts of the ride.  Avoid weekend and holiday evenings if you can, as lines can be long.  Tickets are HK$30 (US$3.90) round trip.  To reach the tram terminus, catch bus 15C from the Star Ferry Terminal or bus 12S from the Admiralty MTR station.
TAXIS: For quick point-to-point service, you can't beat Hong Kong's dependable fleet of taxis.  Taxi drivers are required by law to use their meters, and unlike in some Asian cities, all cabbies obey this regulation quite scrupulously.  While drivers have been known to take passengers on circuitous routes in order to run up the fare, in general all drivers are impeccably honest.  They know the city well and almost never get lost.  They often speak little English, however, so have your destination written in both English and Chinese, if possible.  About 18,000 taxis operate in Hong Kong, with red-colored cabs servicing Hong Kong Island and Kowloon, and green-colored taxis serving the New Territories.  Fares are relatively cheap compared to other major world cities.  Flag-fall starts at HK$15 (US$2) for the first two kilometers with HK$1.40 per 200 meters thereafter.  Drivers can charge HK$5 per bag as well.
PADDY WAGONS: Well, you don't want to ride in one of these.  If you overdo the grog and get unruly in Lan Kwai Fong or Wan Chai, however, Hong Kong's finest will give you a free ride to the nearest lock-up in a white Mercedes police van.  With the sirens on you'll move through traffic much more quickly than bus or tram passengers, but then again they aren't handcuffed.  Paddy wagon fares depend on the severity of your offense and can range from a small fine to decades in Shek Pik, a notorious high-security slammer on Lantau Island.
PENINSULA HOTEL ROLLS ROYCE: Members of Hong Kong's elite have traditionally flaunted their wealth with a Rolls Royce.  If you want to roll across town like a multimillionaire yourself, take a room at the famous Peninsula Hotel in Kowloon.  This venerable establishment maintains a garage of chauffeured Rolls-Royces, and as a hotel guest, these gleaming luxury sedans are at your disposal.  The catch: Rooms start at HK$3,000 a night (US$400). 
RICKSHAWS: These human-powered taxis have long since disappeared from the streets of Hong Kong.  However, a few rickshaw pullers can still be found outside the Star Ferry Terminal in Central.  They cater to foreign tourists, though where they would take anybody is hard to say.  Hong Kong's frenetic traffic hardly leaves room for pedal-powered rickshaws.  So unless you enjoy watching someone sweat and strain to pedal you around town on some kind of colonial nostalgia trip, you can cross this form of transport off your list.  If you want to give the battered-looking rickshaw pullers some business, you can always pay to take their photo.  In fact, they expect you to fork over some twenties if you snap any pictures.
RENTAL CARS: Unless you wish to explore the remoter corners of the New Territories, you won't need a rental car in Hong Kong.  After all, the city has an excellent mass-transit system and thousands of taxis.  Plus the traffic alternates between chaotic and sclerotic, which doesn't make driving much fun.  And if you are from North America or continental Europe, you'll face the additional challenge of keeping to the left in post-British Hong Kong.  All in all you're better off relying on public transport, but if you simply must have a car, Avis and Hertz both rent autos in Hong Kong.  Though it is sometimes possible to rent cars for less, you would be wise to budget US$100 a day.  On the plus side, however, a driver's license from your home country is sufficient to rent and drive vehicles in Hong Kong, so you won't need an expensive international driver's license.
MOTORIZED CARTS: Renting a car won't be an option if you take a day-trip out to Cheung Chau or Lamma, since the residents of these islands have preserved the traditional flavor of their home by outlawing cars, trucks and motorcycles.  Islanders tend to take a more laid-back approach to life compared to their cousins in Kowloon and Central, and as a result the only combustion-engine machines allowed on the islands are the noisy motorized carts that carry cargo up from the ferry docks.  These mechanical mules haul canisters of propane, cases of Carlsberg and crates of instant noodles.  They don't carry passengers, however, though if your feet get sore, you could always try to hitch a lift.
BICYCLES: Though you can't rent a car, you can rent a bicycle while day-tripping on Cheung Chau or Lamma islands.  The locals all ride dorky no-speed bikes, after all.  Some elderly ladies even have training wheels.  In general, however, Hong Kong is not a bike-friendly place.  The streets are simply too busy and the sidewalks too cluttered.  In fact, the biking environment is so dangerous that Carpenter Road Park in Kowloon City offers a special children's bicycle track.  Parents living in high-rise buildings rent bikes for their kids, who have nowhere else to safely ride except on the park's neatly configured bike track.
STAR FERRIES: You won't find a more enjoyable seven minutes in Hong Kong than aboard the Star Ferry.  You won't find a cheaper seven minutes either.  At a maximum fare of HK$2.70 (US$0.35), the seven-minute ferry ride from Kowloon to Central may be Asia's best travel deal.  You get the teak-decked character of the double-decker ferries, which have been carrying passengers from Kowloon to Hong Kong Island since 1888.  You get salt air and a cooling sea breeze.  Best of all, you get a view of the busy harbor as well as the palisade of high-rise buildings fencing Victoria Peak.  To get this world-famous view be sure to ride from Kowloon to Central rather than vice-versa, preferably at night when the skyline explodes with neon.
INTER-ISLAND FERRIES: The inter-island ferry docks lie just west of the Star Ferry Terminal in Central.  From these docks you can board ferries bound for Cheung Chau, an island known for its seafood and traditional fishing village atmosphere.  You can also steam out to Lamma Island, which boasts a network of hiking trails and an expatriate community with distinctly Bohemian tastes.  Or you can head to Lantau, the largest island in Hong Kong and site of the new international airport as well as the world's largest outdoor seated bronze Buddha.  No matter what island you head for, however, you'll enjoy great harbor views along the way.  Be warned that some ferries box passengers up in hermetically sealed air-conditioned chill chambers.  Be sure to bring an extra layer.  In addition, if you are prone to sea sickness you'll likely feel a bit green on the rougher days.  One-way fares range from approximately HK$10 to 35 (US$1.30 to 4.50).  Fares rise on Saturday and Sunday, when legions of weekenders head out to the islands to swim, hike and eat seafood.
HYDROFOILS: If you have the time, take a day trip out to Macau, the former Portuguese colony 40 miles southwest of Hong Kong.  To get there simply catch a high-speed hydrofoil out of the international terminal in Shun Tak Centre on Hong Kong Island.  All you need is your passport and HK$230 (US$30) for a round-trip ticket.  You can head to Macau at any time of day, since the hydrofoils run around the clock.  Not uncoincidentally, the gaming tables of the city's famous casinos also stay open 24/7.  Macau offers much more than casinos, of course.  With its Portuguese heritage, the city makes an interesting contrast to British-influenced Hong Kong.  Macau is more laid back and less dynamic than Hong Kong, but also has a deeper appreciation of the good things in life.  Long meals with plenty of chilled white wine are much appreciated in Macau, a city with a unique cuisine blending Cantonese, Portuguese, Indian and African culinary traditions.  Carefully restored Portuguese colonial buildings line the city's cobbled lanes and create a southern European atmosphere in the middle of Asia.  Local transport options consist largely of taxis and buses small enough to traverse the narrow streets of the European-style old city center.  A surprisingly large number of rickshaw drivers ply their trade outside the famous Lisboa casino, though if you want a taste of how the locals used to travel around Macau then a cruise aboard the Maritime Museum's vintage A-Ma junk is a better bet.  For just ten patacas (US$1.25) you can sail on a 30-minute junket aboard this ocean-going museum display.
CHINESE JUNKS: You can also take a junk cruise in Hong Kong.  In a city where everything is for sale, you'll be pleasantly surprised to discover that rides aboard the Duk Ling are free.  All you have to do to book a harbor cruise is reserve a spot at one of the Hong Kong Tourism Board offices (see "Double-decker Buses" for office locations).  Lovingly restored in the 1980s, the Duk Ling is the last authentic sailing junk in Hong Kong.  Private tour operators offer harbor cruises on ships tarted up to resemble Chinese junks, and while some of these brightly colored ersatz junks offer all you can drink open bars, they still can't beat a sail aboard the authentic -- if alcohol-free -- Duk Ling.  Cruises are only offered on Thursdays and are cancelled in rough weather or heavy rains.
TRAVELATOR: If you want to move up in life, check out this half-mile-long escalator.  Officially known as the Central to Mid-levels Escalator, the Travelator is billed as the longest covered escalator in the world.  The Travelator is actually a series of escalators and elevated walkways that can haul you from sea level up to the residential areas that press up against the cliffs of Victoria Peak.  On the way you'll get a bird's eye view of some of Hong Kong's most trendy neighborhoods for eating, drinking and shopping.  From six a.m. to ten a.m. the escalator runs down; from 10:20 a.m. to midnight it runs up.  You'll get a free ride no matter which direction you go, but if you head upwards, keep in mind that you'll have to walk down on the regular stairs that parallel the escalator.  On sweaty summer days you might consider hailing a cab or catching a bus for the journey back down to Central.
FEET: Of course, walking remains the best way to see Hong Kong, so you might as well stroll on down from the Mid-levels.  Despite the traffic, crowded sidewalks and summer heat, Hong Kong remains a surprisingly walkable city.  In fact, many of the most interesting parts of Hong Kong can only be seen on foot.  Explore the warren of narrow alleys in Wan Chai where everything from pig's heads to headscarves are on sale.  Walk the Seafront Promenade in Kowloon for a spectacular nighttime view of the city and a cooling harbor breeze.  Stroll the trail that circles Victoria Peak or hike in the parks that cover 40% of Hong Kong.  Check out the stepped lanes of Central or the pedestrian-only market streets of Mong Kok.  You can literally walk your socks off in Hong Kong, but this is hardly a problem.  After all, when your feet finally get tired, there are literally dozens of different ways to ride back to your hotel.
* * *
A NOTE ON PRICES: Ticket prices quoted in this article assume the best possible rate of HK$7.75 to the U.S. dollar.  To get such an excellent rate of exchange, your best bet is to change money at the Western Union offices on the second and third floors of World Wide House, located at the corner of Des Voeux and Pedder streets in Central.  Credit-card transactions and the city's ubiquitous ATM machines generally offer favorable rates of exchange as well.
* * * * *
---