The Valley of Kathmandu - 2
---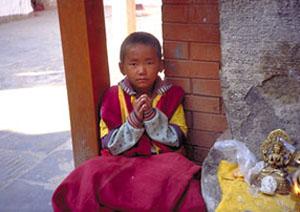 Image ©
2000 Travel, Ink. / Robert Tompkins
Part 2 of 3
The oldest bazaar in Kathmandu is Asan Tol, a short walk from Durbar Square. Located along the ancient pilgrimage route between Boudhanath and Swayambhunath, the two most revered Buddhist stupas, Asan Tol provides a glimpse into traditional Nepali life. The farther you venture down the narrow lanes and interconnecting alleys, the farther you will wander back in time. There is a vivacity here, a vitality as merchants and buyers interact, haggling and bartering as they have for generations.
Farmers hunker behind baskets of produce. A wood seller is bent under the load of firewood on her back, a supporting strap slung around her forehead. Men crowd around a makeshift table as a vendor meticulously wraps ground betel nuts sprinkled with quicklime into leaves, which are chewed as a tonic. Pedestrians make way for a wagon with its grisly load of severed goat heads and hooves. A cow sniffs nonchalantly at a stall mounded with hundreds of pomegranates. Dogs are chased from a butcher's stall, the chicken parts displayed on a bench covered with sheet metal.
Down a laneway a barber's scissors click rapidly as her client squats on a mat. Nearby, a shoemaker huddles in a blanket, sound asleep, his last, hammer, tins of polish, glue and nails neatly arranged before him. An enterprising man has attached a piece of plywood between the handlebars and seat of his bicycle. Using a kerosene stove, he prepares omelets in an iron frying pan and sells them wrapped in wax paper. The ringing of bells is incessant as trishaw drivers weave around pedestrians; motorbikes and tuk-tuks, horns buzzing, cough and belch exhaust. If you glance through the ramshackle exterior of some shophouses, you will notice courtyards, green and blooming, sanctuaries from the bustle.
* * * * *
Nepalis, regardless of sex, spit unselfconsciously, unabashedly, and frequently. They will loosen their throats with an obscene, forceful, guttural hoik and gob, seemingly unaware of the shuddering effect on the unaccustomed. A cacophonous orchestra of phlegm and catarrh, echoing like a ward in a tuberculosis hospital, follows you down the spittoon streets.
* * * * *
There is often a drabness, a gray pale to Kathmandu, as dust, exhaust, and wood smoke hang in the air, the particles captured in headlight beams. Two-cycle tuk-tuks, horns buzzing, cough and sputter as they spew fumes. Buses so crammed with passengers that it appears they will pop out when the doors are opened bang and rattle, engines roaring under the load, belching pollutants. Many pedestrians hold scarves over their noses and mouths.
* * * * *
The four Ashoka stupas located at the cardinal points around Patan, two miles southeast of Kathmandu, are said to date from the third century and according to legend, were erected to commemorate a visit from Gautama Buddha, who was born in Nepal in 623 B.C.
"There is an interesting item of information regarding this road," Diwakar announced, smiling. "The first automobile in Nepal was carried down this street in 1952; it was carried over the mountains and down this street on a litter by 165 men who were delivering it to a royal family."
We were in Patan's Durbar Square looking over a vendor's motley assortment of goods, which included a number of apparently human skulls with much silver inlay; the vendor was attuned to any sign of interest. Suddenly, a wild man with long, unkempt hair and bedraggled beard confronted us. He wore an orange tunic that reached to his knees; his head was swathed in a long red scarf, which continued over his shoulders and down to his knees. Beaded necklaces hung to his waist. His forehead was painted white and lined with red; a red dot was placed between glaring, hostile eyes. Raised in one hand, he brandished a stick on the end of which was impaled the wizened head of a horned animal.
Mumbling a chant and growling, he dabbed our foreheads with red powder and then stood wide-eyed and menacing with his palm out; the red lines painted on his brow disappeared into furrows.
"It is called tikka," Diwakar commented, referring to the red powder. "For tourists it brings good fortune. It also brings good luck to the holy man, who must be tipped." He gave the word must an ominous emphasis.
After the wild man left, Diwakar described him as a "freelance holy man" with little spirituality. In the distance, the luminous snowcaps radiated their own spirituality.
* * * * *
On the entry card for Nepal there were a number of guidelines for visitors: a caution against unauthorized money changing, requests for proper dress, a reminder that drug use was a serious offense and a plea "to avoid encouraging beggary with beneficence." Diwakar further explained that it was in his belief immoral and against the natural design to give to beggars, especially those with a disability. "There is a cause and effect determination of our lot in life," he added. A man with his feet on backwards thumped and dragged by using two staffs like ski poles.
* * * * *
Bhaktapur, founded in 870 A.D. is less than eight miles from the center of Kathmandu; known as "the city of devotees", it is the most traditional of the three major cities in the Valley. The blocks of multi-storied dwellings, townhouses Nepali-style, and tiered pagoda temples are seen against a backdrop of the clouds drifting around and between the jutting mountain peaks, creating a deceptive trompe-l'oeil . "Sometimes trying to tell the snow caps from the clouds is like trying to differentiate between a freelance holy man and the truly enlightened," Diwakar grinned.
We asked about the pizza shaped offerings decorated with rice, spices and beads that were found in front of many dwellings. Diwakar explained that they were made from a paste formed by mixing cow dung and cow urine. "They are like a talisman to ward off evil. Hindus believe that man evolved from the cow," he continued. "There are gods and goddesses in each cell of the cow. Dung and urine are like ambrosia."
* * * * *
(end of Part 2, concluded in Part 3)
---