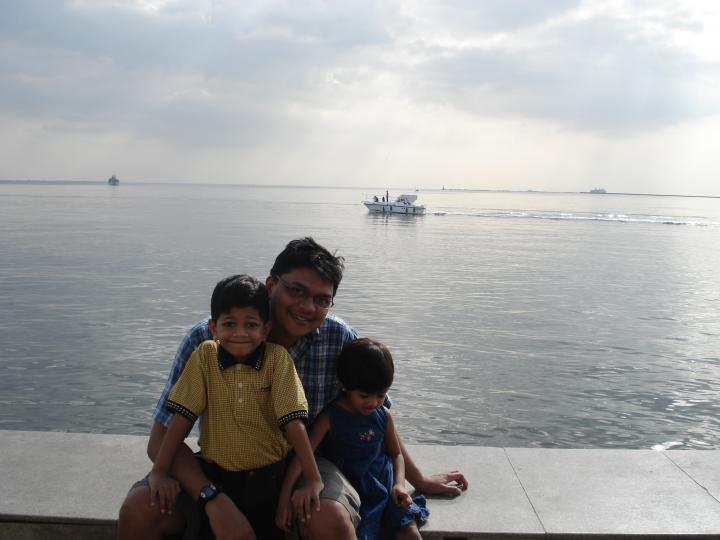 Baywalk along Roxas Boulevard is the best place to view the famous Manila sunset. It's a great place to pass your time with friends and family.
Overlooking the Manila Bay, Baywalk had open air cafes, restaurants and benches where one could sit, chit chat, watch people passing by and of course witness the sunset. I say had because the open air eateries are no longer there. The new Manila Mayor, in his enthusiasm and "good intentions" of eliminating alcohol and performance stages on Roxas Boulevard, had also closed down the Fruitas Fruit Shake Stand, The Ice Monster, Figaro café, and every other concessionaire on the boulevard.
So, what used to be a place filled with youngsters and foreigners hanging out for food, music and chat, is now dark, deserted and littered with shadows of street children, stray dogs and vagrants. My family and I were lucky because we managed to visit and feel the old atmosphere at Baywalk.
During our visit, there were huge dinosaur statues set up along Baywalk. My children were so excited at seeing these large models on display, which I must say did resemble the originals. The Brontosaurus and Triceratops were getting the most attention. Children and adults alike were touching and posing next to these sculptures. Labels were placed next to them, stating their names and their lifetime duration, for those interested to know the species. There was also a hanging shark looking rather scary with its mouth wide open, capturing the attention of small kids trying to place their hands in its mouth. I thought it was a good place to take the kids to – more like a mini park.
So, after letting the children run around and snapping photographs, we headed to Figaro café to have a drink and some pastries. Feeling the breeze go through my hair, watching the boats and ferries go by, and having my cup of tea was a perfect ending to a wonderful afternoon out.
However, unfortunate as it is, walking is all you can do now when you head down to Baywalk. No eateries to sit and relax. No music. No statues. The crowd has left. Just a lot of empty space for you to walk, walk and walk.
---