Xintiandi spells "shanghai"
---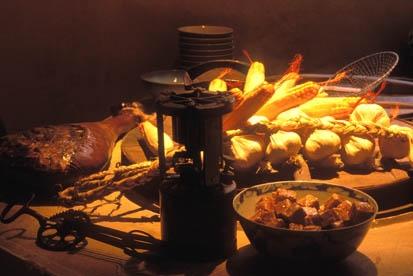 Image ©
2008 Graham Simmons
There isn't a great deal of silence in Shanghai. There's not much space, either - unless the idea of "making space" means building upwards instead of sideways. But in the midst of total megalo-building-mania, Shanghai's planners have taken a game leap into the past - and the result is the space-time warp now known as Xintiandi.
On this occasion I'm privileged to be visiting Xintiandi's soon-to-open Open House, an authentic re-creation of the early days of Shanghai's French Concession precinct. This museum's enclosed spaces create a silence that is nearly palpable. But amidst the silence you can almost hear the echoes of the throb of daily life in the 1930s, Shanghai's most feral era, when the French police and the infamous Green Gang triad operated out of each other's pockets.
Check out the study and parlour of the museum, with polished redwood furniture and musty aroma creating an olfactory "tone poem" that takes you way back in time; then climb the rickety staircase to the attic, a Spartan garret that used to be rented out to penniless writers (has anything changed since then?) On the top level, the master bedroom and kids' rooms have been meticulously furnished with authentic period furniture and bric-a-brac - right down to the family photos on the dresser.
Just south of the former Avenue Joffre (now Huaihai Lu), what is now Xintiandi was in the early 1900s the heart of the French Concession. When French expatriates from other provinces of China and from Vietnam came to Shanghai in search of its hedonistic lifestyle, they found accommodation in Xintiandi's unique Shikumen ("stone gate") houses.
The Shikumen houses for which Xintiandi is now famous have an illustrious history. The style originated during the Taiping Rebellion of the mid-1800s, when many residents of Shanghai and thousands from the neighbouring provinces of Jiangsu and Zhejiang were forced to take refuge in the City's foreign concessions. The newcomers were accommodated in houses built along narrow avenues, or longtangs. Each house was designed for just one family, but in one case at least, a shikumen was found to be housing no fewer than 72 families.
Each Shikumen house featured a stone gate framing a wooden door, which led into an enclosed courtyard. In the 1930s, French architects and developers built upon this style, designing new Shikumen-style housing in the Xintiandi area for the influx of expatriate residents. Now, seventy years down the track, the Xintiandi precinct has been fully restored to its former glory - with the addition of upmarket cafés, shops and restaurants that make a visit a total multi-sensory experience.
OK, so the Shikumen houses aren't quite the same as they were in the 30s. When the refurbishers moved in, they ripped the guts out of every building except the Open House, putting in brand-new interiors including air conditioning and fibre optic cabling. In some cases the whole building was demolished and then rebuilt, using the original bricks from the demolition. Overall, though, the results seem pretty authentic - right down to the ornate fleur-de-lys style scrollwork on the house façades.
The Xiantiandi precinct, on a 30,000 sq m block near the Huang Pi Nan Lu metro station, forms just 10% of the Taipingqiao area. Taipingqiao is in turn a part of the Luwan District of Shanghai. While the whole of Taipingqiao is now scheduled for redevelopment, it is in Xintiandi that most efforts have so far been concentrated.
A tour of Xintiandi is de rigueur for every visitor to Shanghai. I started with a brief visit to the Xintiandi branch of Starbucks, which while not quite period-authentic, does still serve the finest doppio espresso con panna on the planet. Thus fortified, it was time to explore some of the other establishments in the precinct.
Yè Shanghai is an upmarket restaurant based on its now-renowned Hong Kong namesake, and serving some of the best Chinese food I've ever come across. "We aim to set the standard for modern Shanghai cuisine", says manager Danny Hui, who seems pleased by the crowds that are flocking to his place prior to the official opening (scheduled for May 2002).
Fancy a little culinary titillation? Try these Yè Shanghai offerings - Duck with red-wine sauce; baby lamb chops with lemongrass, Shanghainese-style; minced chicken with pine-nuts, served in pita-style pockets; crispy eel with sesame; Shenyang-style spare-ribs with sweet-and-sour sauce. Just reading this again brings back to me the subtle flavours, which it would seem were lovingly crafted by a team of master-chefs.
Just down from Yè Shanghai, another Hong Kong transplant - Va Bene Italian restaurant - has already attracted fave-rave reviews for its antipasto dishes and pizzas. In pride of atmospheric place is the private all-blue dining/cigar room, based on the renowned Blue Grotto on Italy's Isle of Capri. Another Continental touch is provided by the nearby Luna café-bar - if, that is, you can afford ¥390 for a bottle of South Australian Wolf Blass Cabernet. But a coffee is a little cheaper, with some of the best street-views in Xintiandi an added bonus.
With its Silver Vodka Bar and original ink-stone slabs, the DR Bar fully justifies its title, which stands for "Design Resources". "We are minimalists," reads a welcoming sign. "Please strip to the bare essentials and leave the complexities of life in a city of 15 million people behind." I was wondering where to leave my wallet - the only really bare essential - when I was jolted back to now-time by a team of (surprisingly) fully-clad people walking out the door.
The chicest bar would have to be Tou Ming Si Kou (TMSK). The post-nirvana décor looks like the entrance foyer to Cloud Nine, with the subtlest of lights shining through the frosted glasses behind the bar. "We use a special Lia Li glass", said a bar attendant. Unfortunately, all my entreaties to be allowed to take some photos were met with a deaf eye.
The most tantalising place on the block at Xintiandi would have to be the Herbal Legend medicinal restaurant. A classical Chinese flautist greets diners as they enter the main dining room, where the totally in-keeping décor sets off a herbal tonic bar, with a small herbal museum to one side of the foyer. Soon to be in-house will be a Chinese herbal physician, who will be able to take your pulse and then "prescribe" your meal for you - and you'd better eat it, or you won't get any dessert!
After dinner, walk down to the ornamental lake that is a key feature of Xintiandi. On the way, you pass the site of the first national congress of the Chinese Communist Party, at 76 Xingye Lu. When delegates met on here on 21 July 1921, they laid the groundwork for the revolution that would come to fruition 28 years later. At the time of my visit, the preponderance of tour groups was a little off-putting - but that may be the price you pay for visiting a national icon.
With Stage One of Xintiandi now completed, work on Stage Two is proceeding apace. A shopping mall (now nearly completed) is to open in mid-2002, featuring an IMAX theatre, spa and fitness centre and many name-brand boutiques. Next to come will be two hotels and a residential complex.
The remaining 90% of Taipingqiao has already attracted the designers' attention. Many Xintaiandi tenants are waiting with bated breath to see what competition they will be facing. But this being Shanghai, they probably won't have to wait very long!
* * * * *
---