Isaan: Gateway To The New Indochina
---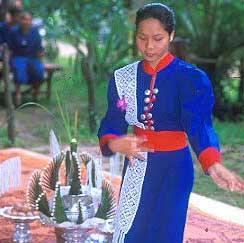 Image ©
2001 Graham Simmons
To the strains of the ancient khaeng pipes, the villagers file past us, all armed with cotton cords. Some they tie around our left wrists, and some around the right. The ritual is a part of the traditional Lao welcoming ceremony, each thread both a symbol of welcome and a non-demanding bond - a connection that remains long after the event.
The Lao people of Ban Nong Hoi Yai village, in the little-known Isaan region of north-east Thailand, still maintain the traditions of their ancient homeland, which lies just across the Mekong River. Lao culture permeates ever aspect of their daily life, from cotton dyeing and weaving to music and dancing.
The 19 provinces that together make up Isaan all have close connections with Indochina. In particular, the ancient Khmer temples at Prasad Hin Phimai and Prasad Hin Phanom Rung are said to surpass even those of the ancient Thai capital Ayutthaya.
While the allure of the old Indochina (set in celluloid by movies such as Indochine) may be a little over-romantic, the newly emerging nations of Vietnam, Laos and Cambodia together constitute a "nouveau Indochine" - a post-colonial, virtually post-Communist bloc now welcoming visitors. Unquestionably, the easiest access to the new Indochina is via the Isaan region.
As the dawn mists rise over the Mekong, like a gauze curtain slowly being hoisted, our longboat makes its way downriver from the provincial capital Nakhon Phanom. The motor sounds like a cross between a washing machine and a lawnmower, but somehow resists the temptation to fall apart. The boat cruises the border between Thailand and Laos, where life seems to proceed in a cocoon, a time-capsule far removed from the hustle and motor-mayhem of modern Thailand.
Wat Muat Goah (the temple in the Lao town of Muat Goah) is the center of a 2,000 year old empire that used to rule a vast territory on both sides of the Mekong. Today, Muat Goah is little more than a village, but the Temple still dominates the surrounding landscape. Fishing boats are tethered along the town waterfront, while water buffalo graze peacefully on the grassy sward.
Further east along the Mekong, Wat Phra That Phanom (on the Thai side of the River) is a huge Lao temple, its 50 metre chedi (spire) capped with over a hundred kilos of 24-carat gold. In the colonnades around the spire, fortune tellers offer little tins of divining sticks For a small fee, you get to rattle the tin until a stick falls out, the number on the stick corresponding to one of a hundred or so fortune readings, each presented on a little sheet of paper.
My fortune was number 20. "You are like an explorer in very thick jungle, who knows how to find a short cut?" begins the translation. Maybe there's a grain of truth here; it is fervently to be hoped that the explorer doesn't kill himself (or anyone else, for that matter) along the way.
Meanwhile, further along the colonnades, an old lady is beating a temple drum with a drumstick nearly as big as herself. As the gong-sound reverberates around the gallery, she clasps her hands in silent prayer. Alongside the temple, another drum is so large that it has to be housed in a separate, ornately-roofed pavilion. In a museum attached to the Temple, the abbot Phra Mahanom Sumano greets visitors, his eyes sparkling, his face grave yet composed and filled with quiet mirth.

Haeading east from Wat Tahat Phanom, through the modern provincial capital of Sakhon Phanom, you reach the stunning archaeological site of Ban Chiang. While travelling through Ban Chiang 33 years ago Stephen Young, a son of the then US Ambassador to Thailand, happened to pick up some shards of pottery from the roadside. He sent these to an American museum for carbon dating. To the amazement of all, the dating and subsequent excavation revealed evidence of an ancient proto-Khmer culture going back nearly 6,000 years. Some authorities even believe that Ban Chiang ranks as an independent "cradle of civilisation", challenging the conventional wisdom of ancient migration from the Middle East to Asia. Today, the Ban Chiang excavation site and its attached museum are open to visitors. Many pottery fragments and even whole vessels have been left in their original places. To see clearly on view some of the oldest known cultural relics on earth is an amazing sight, one that fully justifies a detour to Ban Chiang. Even today, pottery vessels are made in the traditional style, with the pots being made at Kam-Oa village, then painted at the village of Pulu before being finally sold at Ban Chiang.
We're now heading north on the road to the Mekong-side city of Udon Thani. En route, the highly quirky gardens of Sala Keo Kou are another link between the ancient past and modern Isaan. Built by businessman-turned-monk-turned-shaman LÚng BÙ Bón LÚea between 1975 and 1996, the gardens contain over 200 HUGE figures in concrete. Some sculptures, many of which bear a closer relationship to the ancient Hindu religion of Indochina than to later Buddhist beliefs, tower as high as a six-storey building. Here are statues of Shiva and his wife Parvati, together with their elephant-headed son Ganesh. Alongside, a giant meditating Buddha figure is sheltered by a King Cobra.
A visit to nearby Phubrabat Historical Park is also a "must". Within the Park, cave paintings date back at least 2,000 years. But the best motive for a visit is for pure relaxation, walking on hill tracks past rare orchids and tranquil lotus ponds, or taking in the spectacular vistas from Mount Phu Pan.
Back in Ban Nong Hoi Yai village, the gracious dancers are reaching a crescendo in their performance. Each young lady manages to concentrate on the intricate hand movements called for by the dance, despite smiles that often break into laughter at the antics of us crude Westerners. After prayers by the village priests, eggs are placed in our waiting hands, a prelude to the wrist-tying ceremony. Later, I learn that each of the threads represents one of 32 guardian spirits or khwan, each of which is said to preside over one particular organ or vital part of the body.
One by one, nearly all the strings around my wrists have by now fallen off. One thread, however, refuses to drop away. I kind of suspect that this thread has a will of its own, providing a fitting memory of a place and time that will long be etched in the cosmic records of happy connections.
FACT FILE
Getting There:
Thai Airways flies regularly to Bangkok, with domestic connections by Thai Airways on to Udon Thani and Nakhon Phanom in the Isaan region of Thailand.
Accommodation:
The region has some excellent new hotels. Among these are:
Nahkon Phanom: Nakhon Phanom River View Hotel 9 Nakhon Phanom-That Phanom Road, Nakhon Phanom 48000 Tel +66 42 52 2333 Fax +66 42 52 2780
Udon Thani: Ban Chiang Hotel 5 Mukamontri Road, Udon Thani Tel +66 42 32 7911 Fax +66 42 22 3300
Tours:
North-East Tours, based right in the heart of Isaan in the town of Nakhon Phanom, specialises in tours to Laos, Vietnam and Cambodia as well as local "Isaan Highlights". Contact Nick Ascot, tel +66 42 51 3572, fax +66 42 51 3573, E-mail: nxne@esan.inet.co.th. Further Information: The latest (July 1999) edition of Lonely Planet's Thailand is outstanding, one of the best of the colourful "New Wave" of LP handbooks.
---