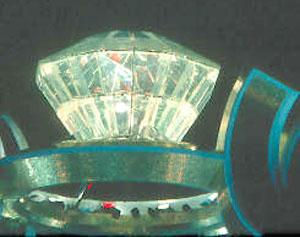 Image ©
2001 Graham Simmons
It's 6:15 pm on a Tuesday evening, and the world's first free amusement park, at Jerudong on the north coast of Brunei Darussalam, has been open for over an hour. And there's no-one here! This is weird. The rides look great, the lawns scissor-manicured, the gardens lush and inviting. So, where are the crowds?
"They're all at the football", says one of the ride attendants. "There's a big game in Bandar tonight, and that's what's keeping people away."
"Plus, school exams are on right now", adds Andrew Cavanagh, a roller-blade instructor from Sydney, who has moved to Brunei to pass on some of his knowledge to budding young Bruneians. "Come the weekend, this place will be choc-a-bloc!"
An hour or two later, a reasonable crowd has arrived. "This is great", says a local visitor. "Even if it wasn't free, I'd still come here!"
Jerudong's development has been constant and ongoing. "When I came here four years in 1993", says Cavanagh, "this place was just a swamp. But since then they've been extending the grounds and building new rides every year. And they don't have to worry whether they make a profit or not, so they can just concentrate on making the whole place as attractive as possible."
The new Pusat Lagi ("Dizzy Again") ride, the 36th at Jerudong, is an aptly-named thriller, a suspended looping roller-coaster that has you dangling in mid-air, like a broiler chicken waiting to be plucked. And then there's the Skytower, which, in what seems like a split-second, whisks you over a hundred metres into the air and then down again. To appease pangs of hunger, there's a very inviting refreshment area near the western car park, with over a dozen hawker booths serving excellent, inexpensive fare.
Jerudong, which opened on 15 July 1994 to celebrate His Majesty Sultan Hassanal Bolkiah's 48th Birthday, seems certain to go on to bigger and better things. Already there's a huge auditorium here, where Michael Jackson gave two concerts in 1996, in celebration of the Sultan's 50th Birthday.
One of the most striking attractions at Jerudong is the Musical Fountain, where nightly, every hour on the hour, a 20-minute music-and-laser show takes place. Dancing fountains play as a backdrop to a sound-and-light extravaganza, in which holographic cartoons and other images are projected into thin air.
With 104 hectares of grounds already developed and more opening every year, what seems certain is that Jerudong's best days are yet to come.
* * * * *
Fact File
Getting There:
Royal Brunei Airlines flies twice-weekly from Singapore, Kuala Lumpur, Tokyo, Brisbane, Darwin and Perth to Bandar Seri Begawan.
Getting around:
The central bus station is in Jalan Cator. Buses to anywhere, including Jerudong, cost $B1. (But note that most buses stop running after 6:30 pm. A taxi back to BSB from Jerudong will cost about $B20-25).
Accommodation:
There isn't a great deal of inexpensive accommodation in Brunei. In Bandar Seri Begawan, the cheapest accommodation is the pleasant Capital Hotel. Out of town, the new Fakhriah Guest-House at Jerudong, just a few minutes walk from the Jerudong Park Playground (tel +673 2 22 7015) offers rooms for around $B40-50 a night.
The Holiday Lodge
Lot 27192, Kampung Jerudong
Jalan Pulau Kubu
P.O Box 555, BSB BG1128
Negara Brunei Darussalam
Only 5 minutes walk to Jerudong Park Playground
* * * * *
---