Kanchipuram, India's Great Reconciler
---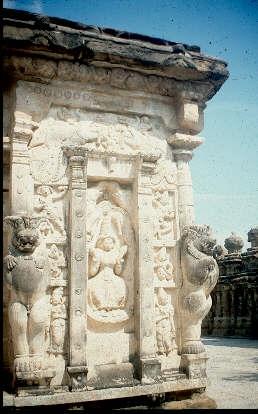 Image ©
2008 Graham Simmons
Looking for a punch-line to introduce a story on Kanchipuram is a bit like trying to find something sensational to say about your mother. You know she's done you a power of good, but it's hard to pinpoint just how or why.
Kanchipuram, one of the seven "sacred cities" of India, evokes a whole range of superlatives. Uniquely among India's temple cities, it divides itself into two distinct quarters, with worshippers of Lord Siva (or "Shaivites") and Lord Vishnu (the "Vaishnavites") each claiming one district for themselves. But despite this division, the city stands as a symbol of reconciliation.
On first visiting Kanchipuram, I was reminded of Belfast, with its divided loyalties - Catholic versus Protestant, orange versus green, extremist versus fanatic - all dedicated to creating differences where none really exist. However, it later became apparent that Kanchi is really the field upon which differences between Vaishnavites and Shaivites are deliberately played out to the full. The result is a city of extraordinary energy.
(Here, I must make a disclaimer. I'm only a travel writer, not an expert on spiritual matters. What follows is based upon my very limited knowledge, and equally limited experience).
Kanchipuram also possesses a centre dedicated to the transcendence of all of India's sectarian distinctions. Like an oasis in a desert, it provides sustenance to those bewildered by this country's kaleidoscope of varying aspects of the one underlying unity.
Getting to Kanchipuram is a trip in itself. Whether you travel by rail, bus or car (see Fact File)), it's a journey of about 2-3 hours from Madras. By road, you travel along the Periyar (Poonamallee High) Road along the banks of the scenic Kuvam (or Cooum) River. On the left of the road, the imposing "St John's International College" rises sheer out of the rice paddies. With its fine landscaping and multi-storied arched facade, it looks like something out of an Escher painting.
At Sriperumbudur, 38 km out of Madras, they're building a memorial to Rajiv Gandhi, who was assassinated here in 1991. Already, with the infrastructure developments currently underway, the town seems set to become the Dallas of Southern India. Sriperumbudur also has a towering temple dedicated to the 11th Century Vaishnava philosopher Ramanuja.
Just 30 km from Sriperumbudur, the gopuram (tower) of Kanchipuram's Ekambaresvara Temple rears into the sky, dominating the landscape for many kilometres around. The main tower or rajagopuram, nearly 60 metres tall, is the third highest in India - and this isn't the whole story. The entire complex covers 9 hectares, and has several gopurams nearly as high as the main tower.
Dedicated to Siva in his ascetic form, Ekambesvara temple was first built by the early Pallava kings, as early as the sixth Century, and was subsequently enlarged both by the Cholas (850-1170 AD) and the Hoysalas. The main tower wasn't built until around 1500 AD, when the Vijayanagar King Krishna Deva Raya also threw a high stone wall around the compound, giving the whole complex for the first time an individuality of it own.
The "Thousand-pillared Hall" at Ekambaresvara really has only 540 pillars, but is still pretty impressive. Each pillar features remarkable carvings, all in granite. I particularly liked the figure of Yali, a "mythical" creature that is part crocodile, part elephant and part lion. (I'm sure I've seen similar characters at the pub).  
Right in the heart of the temple compound is an amazing old mango tree, said to be over 3,500 years old. It's been grafted, and yields four different varieties of mangoes.
Also in the western part of town (the Siva quarter - Siva Kanchi or Sivapuram) is the impressive Kailasanatha Temple, now a Government of India Historical Site and currently under restoration. This edifice is a superb example of sandstone temple carving, dating right back to the early 7th Century. Images include friezes depicting episodes from the life of Lord Shiva and his wife Parvati, with writing in the ancient Grantha script. You can even see the colour remaining from some of the original painted frescoes.
The other (eastern) side of town is Lord Vishnu's territory (Vishnu Kanchi or Vishnupuram). Here are a number of Vaishnava temples, among the most impressive being the giant Vadaraja Temple. Families come here to picnic, eating their lunch beside the big water tank in the middle of the temple compound.
Carvings on the pillars of Vadaraja Temple are especially interesting. As at the Sri Ekambaresvara Temple, mythical animals predominate. This time, the creature you're looking at has the head of a bull, the torso of a man and the abdomen and legs of a bird.
Vadaraja Temple has an impressive gopuram, like the Siva temples, but its outstanding feature is the 96-pillared Marriage Hall. Built entirely of granite, this Hall gives the feeling that its carvings are timeless, unchanging, as fresh in speaking to today's viewer as back in the 16th Century.
Vishnu Kanchi has several other important Vishnu temples, including the 8th Century Vaikunthaperumal Temple, built by the Pallava King Nandivarman, with an extraordinary three-tiered tower. Other temples can be seen by just walking around the back streets of the City.
The most striking feature of Kanchipuram is the divide between the Shivaite and Vaishnavite population. A procession of adherents of Lord Vishnu in one part of town is mirrored by a similar celebration by followers of Lord Siva in another part of town. Outwardly, the two groups mix like oil and water on a sponge. But privately, you hear expressions of mutual understanding and sympathy that you'll find nowhere else in India. It's as though polarisation has produced a motive for a movement back towards the centre.
However, Vishnu and Siva are only two thirds of the Vedic trinity. The third is Lord Brahma, whose four heads look in all directions at once. These three deities are said to represent the primal forces of the universe, like a building company that specialises in demolition, construction and ongoing maintenance. But in the whole of India there is said to be only one Brahma temple – in Pushkar, Rajasthan.
As previously mentioned, there's a place in Kanchipuram that stands out, not for its grandeur, but by virtue of its unifying effect on the whole of its surroundings. This is the Kamkakshi Amman Temple, founded by the great reformer Shankara, who appeared in India a little after the time of Buddha.
Sankara single-handedly revived the knowledge of Advaita Vedanta, which maintains that the unified cosmic force (Brahman) and the individual soul (Atman), or the Self, are one and the same thing. Advaita isn't a religion in itself; more a method of reconciling widely divergent points of view.
Mr T.M.P.Mahadevan, of the Adi Sankara Advaita Research Centre, put it in these words:
"Advaita has no quarrel with any religion or spiritual perspective. No one is excluded from its portals. The plenary experience which is Advaita is the common goal of everyone. Even those thinkers who profess to oppose Advaita  turn out to be contributors thereto, and all of them speak the language of  Advaita".
The illustrious Sankara established several modest temples or maths in various parts of India, each presided over by a Sankaracharya. These maths, which include the Kanchi Sankaracharya Math (or Kamakshi Amman)  have survived right down to the present day.
Kanchipuram was for many years the seat of the renowned sage Sri Chandrasekharendra Sarasvati, who occupied the post of Sankaracharya for over 80 years. All who met him, including kings and presidents from around the world, were overwhelmed by his presence and kindness; in the words of Dr Albert Franklin, US Consul-General in Madras, "the greatest miracle of the human spirit is the sum of knowledge found in the body of lore which we collectively term the Vedanta...he (the Sankaracharya) represents the highest aspirations of mankind."
Arriving at the Kamakshi Amman Temple is like breathing a long draft of fresh air. I was fortunate to be visiting on Christmas Day, the first anniversary of the passing away of the Sankaracharya. The temple was abuzz with a great dynamic energy, and you felt singularly privileged to be in such an extraordinary place. I came away with a feeling of wholeness, with body and mind acting in rare unison.
After visiting Kamakshi Temple, other sights in Kanchipuram are an anti-climax. But there is still plenty to experience in this City. From the 16th Century it has been the home of an important silk-weaving industry, with over 20,000 looms in the vicinity. A good place to start your explorations is the Weavers' Service Centre, 20 Railway Station Road. Kanchipuram is also a convenient transit point for visiting the coastal town of Mahabalipuram (or Mamallapuram), with its famous cave temples and relief sculptures.
But first of all, do yourself a favour! Stay a little longer in Kanchipuram, and allow enough time to soak up the atmosphere of this "kaleidopolis". You'll come away feeling, along with the many thousands who are privileged to visit Kanchipuram, that you've been graced with a very special experience.
* * *
Acknowledgment: the author visited India as a guest of the Government of India Tourist Office.
* * *
Fact File
Getting There:
Madras is linked by direct international services to several overseas ports including Dubai and Abu Dhabi.
From Madras (Madras Beach Station), trains run regularly to Kanchipuram - or take a government bus, number 828.
Accommodation (Country Code +91):
* 
Madras (Area Code (0)44)
First Class:
Taj Coromandel, 17 Nungambakkam High Road, Tel 47-4849, Fax 825-7104. Good resaturants and central location, $M220+
Connemara, Binny's Road (off Anna Salai), tel 86-0123, Fax 825-7361, a gracious old hotel recently renovated. Superb Rain Tree outdoor garden restaurant, featuring excellent buffet and live Indian classical music. $US75-110.
Good Value:
New Woodlands, 72/75 Radhakrishnan Road, Tel 47-3111. Good South Indian restaurant, pool. A bargain at $US25.
Budget:
Swagath Hotel, 243-4 Royapettah High Road, Tel 86-8422. Restaurant, bar, some rooms air-con. $US12-15.
Krishna Hotel, 159 Peters Road, Tel 86-8997, Fax 86-5037. Some rooms have private facilities. $US2-3.
* 
Kanchipuram (Area Code (0)4112):
Hotel Tamil Nadu, 78b Kamakshi Amman Sannathi Street, tel. 2953, $US4-15.
Sri Krishna Guest-House, Neilukara Road, tel 2831, $US4-10.
*
Health Resorts:
Poonga Resort, 56/1 East Coast Road, Uthandi, Madras 600096, tel +91 44 492-6000, 492-6777. On bus routes 19 and 19A, between Adyar and Muttukadu.
Heritage Villages: Health Connections Limited, Madras, tel +91 44 823 1923.
* * * * *
---