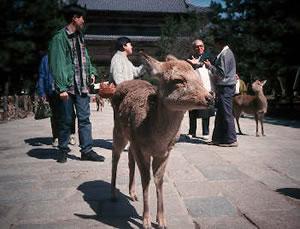 Image ©
2000 Graham Simmons
Why do we do it? Distance ourselves from home and family to travel to the furthest reaches of the globe, suffering the "privilege" of having our entire world view overthrown? Is it that we're trying to recover "out there" something "in here" that has become lost along the way?
These are the thoughts that a newcomer to Japan is apt to feel. This is a nation so refined and self-assured in its values that the visitor is constantly challenged to re-evaluate his or her most ingrained beliefs and premises.
And a good place to start on this path is Nara, Japan.
Nara, the capital of Japan for just 74 years from 710 AD, is a pleasant city of quiet and immaculately-manicured suburban gardens, many hectares of deer-grazing public parks, and ancient temples continually reminding you that your own world view is by comparison blinkered and immature.
Just 35 minutes by train from Osaka, Nara is the home of an Exposition that bills Nara as "the end of the Silk Road". This may come as news to those who thought that the Silk Road ended in China.
Japanese mythology puts Nara's origins way back in pre-history. It is said that when the Sun Goddess dispatched her grandson to Earth, he landed on the island of Kyushu, and was enthroned as the first ruler of Yamato ( the "Land of Great Peace", centred at present-day Nara). Astrologers have fixed a more accurate date - to be precise, at 11 a.m. on 11 February, 660 BC, the time of enthronement of the emperor Jimmu.
On a late winter's day, with the winds from off the still snow-capped mountains penetrating nearly to the bone, early morning in Nara is a little hard to take. But by noontime the sun shines brilliantly, warming the earth and the soul alike. Just to wander through the streets of town, past houses uniquely Japanese in their blending of old-world woodwork and state-of-the-art embellishments, lifts the heart to new heights.
For a change from the wallet-wrenching expensiveness of Japanese accommodation, I stayed at the Nara Youth Hostel. I'd sworn I'd never stay at one of these establishments, with their images of prim properness and acne-faced school-kids. But the Nara hostel came as a pleasant surprise: quiet and roomy, and just ¥ 2,800 per night - -cheap by Japanese standards.
Rowena, from Hong Kong, is touring Japan in her time off from studying in Tokyo. Like many temporary Japanese residents, she can only afford to live some way out of Tokyo City, commuting from and to Yokohama each day - a round trip of 4½ hours! She says that the privilege of being able to share a house with her brother and sister is more than ample compensation- and they can even save a little money for sightseeing.
The centrepiece of Nara is Nara Park, a vast sward of over 660 hectares, full of roaming deer, and great for just walking around. At the north-west of the park lie the superb Isuien Gardens, representing the zenith of Meiji garden engineering. This huge complex covers over 14 square kilometres. Colour, shape and texture are masterfully combined with landscape design echoing in miniature a countryside of hills, lakes and mountain streams. The whole place is extraordinarily peaceful and serene; and if there is a better garden anywhere I've yet to see it, or even a picture of it.
Attached to the Isuien Gardens is the Neiraku (Bijuitsukan) Art Museum, with an interesting collection of scrolls, copper and bronze work, and Korean, Japanese and Chinese porcelain. (But note that all signs are in Japanese only).
The founding of Nara was a watershed in Japanese cultural development. Previously the Japanese had looked to Korea for inspiration, but in the 7th Century they started to glean ideas from the Tang civilisation of China. The symmetrical grid plan of Ch'ang-an, the Tang capital, was chosen as the basic design for Nara.
Japanese Buddhism reached the height of its influence in the mid-700s. Emperor Shomu dreamed of a united, Buddhist Japan under his rule. To commemorate this ambition he ordered the construction of the Vairocana (Great Buddha) of Nara, "to bring about peace to the state and enlightenment to the people". This, one of the world's biggest statues, completely exhausted the country's reserves of gold, and also exhausted the thousands of peasants who were conscripted to work on it.
To house the Great Buddha, the Daibutsu-Den (Great Buddha Hall) was constructed on its present site to the north of Nara Park. The largest wooden building in the world, it completely dominates the Todaiji Temple complex of which it forms a part.
Todaiji Temple was inaugurated in 752 AD, with an Indian priest on hand to consecrate the statue of the Great Buddha. The statue subsequently lasted until 855, when its head fell off during an earthquake.
But having your head fall off is, they say, of little concern to an enlightened being. The statue was repaired, and life went on as before until in 1180 and again in the 16th Century the Great Hall was burnt to the ground. The rebuilding of the Great Hall took some time, and wasn't completed until 1709. The current building may not be exactly the same as the original, but to visit the Temple today is an awe-inspiring and humbling experience.
Strolling around the Temple grounds are the famous deer of Nara: tame, wise and with voracious appetites! They seem to have become addicted to the biscuits that you can buy to offer to them. But they lend an extraordinary atmosphere to the whole Park, and you feel that it's the spiritual energy of this place that has tamed them - or vice versa.
Another Nara landmark is the Five-Storied Pagoda of Kofukuji Temple, founded in 710 AD. Originally, no less than 175 buildings stood within the Temple compound, but fire and earthquake have wreaked enormous damage over the ensuing centuries. Besides the Five-Storied Pagoda, only three main structures remain - the Three-Storied Pagoda, the Eastern Main Hall and the Treasure House.
Nara National Museum, not far from the railway station, is a large complex occupying two wings, with an underground connecting walkway. You enter from the old wing, which has an excellent collection of 8th Century exhibits. As elsewhere in this Museum, all exhibits have brief but informative captions in English. The underground corridor has a fine Amitabha Buddha triptych, with standing Buddhas displaying three different mudras (hand gestures). Looking at these mudras reveals a great deal about the Japanese character.
The newer wing of Nara Museum has some fine exhibits including priceless paintings and scrolls looking like Tibetan thangkas, and a 12th Century astrological mandala - with the sign of Leo at the top (this too reveals much about the Japanese mind-set). The main display room features a model of Hyakunen-To, the mountain of "One Million Memorial Stupas".
The rest of Nara is equally compelling in its design, evoking bygone days. Even the railway station is built in the form of a shrine - and above the railway station is the headquarters of the Institute for Silkroadology. This Institute serves as a research centre for studies into the ancient Silk Road, and promotes Nara as the eastern terminus of the Silk Road.
But it's not only Nara City that entices. The whole of the surrounding prefecture abounds in reminders of its ancient culture. To the south east of Nara the towns of Ikoma and Ikaruga have been proclaimed as important "sites of discovery", containing temples and shrines built during the seventh Century.
Above all, Nara is a living city. You can get an excellent English-language booklet "Nara Living Guide", from the Nara Tourist Office, with practical details on visas, finding accommodation and so forth. If you can find work (eg teaching English), Nara could serve as an excellent base from which to explore the rest of Japan.
But at least allow yourself time here to relax, and unwind from the head-spinning frenzy of Tokyo or Osaka. Nara is an oasis of meditative calm, a haven of peace in a fast-moving nation. Stay awhile, and you'll come away feeling refreshed and invigorated.
FACT FILE
Getting There: Singapore Airlines flies regularly to Osaka's new Kansai International Airport. From Namba Station in southern Osaka, it's just 40 minutes by regular Kintetsu express train to Nara Station. The fare is ¥ 460.
Within the Nara area, a wide variety of Japan Rail (JR) and Kintetsu passes are available, each allowing unlimited travel over 2-8 days, including discounted temple entrance.
Accommodation:
[the Country Code is +81, area code (0)742]:
Some choices in the northeastern section of town (near Todaiji Temple and Nara Park) include:
Green Hotel Ashibi (Japanese-Western style), Higashimuki-Kitamashi, tel 26-7815, ¥ 6,400 up.
Kanko Ryokan Seito (Japanese-style), 1717 Horen-cho, tel 22-5021, ¥ 12,000.
Hotel Mikasa Onsen (Japanese-style, with spa), 728 Kawakami-cho, tel 22-5471, ¥ 15,000.
Nara Youth Hostel, 1716 Horen-cho, a big establishment, and better than your average youth hostel, ¥2,800 without meals. Breakfast ¥ 600, Dinner ¥ 1,000.

Other hotels
(i.e. in the southern part of town, near the JR Railway Station) include:
Nara Hotel, 1096 Takabate-Cho, Tel 26 3300, fax 23 5252; A grand old hotel with Japanese-Edwardian interior; ¥15,000 - 28,000
Ryokan Edosan, 1167 Takabate-Cho, Tel 26 2662, a traditional Japanese-style inn, ¥13,000 - 15,000

Must See: Todai-ji Temple, the Temple of the Great Buddha: Open 0800-1700 March and October, 0730-1730 Apr-Sept, 0800-1630 Nov-Dec.
Nara Kokuritsu Hakubutsukan (National Museum): Open 0900-1630, but closed Mondays).
Isuien Gardens: Northwest of Todaiji; open daylight hours.
Neiraku (Bijuitsukan) Art Museum: Open 1000-1630, but closed Tuesdays. Adjoins Isuien Gardens.
Walking Tour: the Saidai-ji Temple to Nishi-no-kyo route. While at Saidai-ji, witness the Grand Tea Ceremony, using the world?s largest (3 metres diameter) teacup.
Further Information: Internet: an excellent and innovative web-site is the Nara City Imaginary Sightseeing Tour, to be found at http://www.sphere.ad.jp/naracity/e/e_sel_1.html City Info: Nara City Tourist Information Office 1st Floor Kintetsu-Nara Station, Nara Tel (0742) 22-4858 There is also an office at JR Nara Station, tel 22-9821
---