Paradise Preserved: The Thai Isle of Ko Samui
---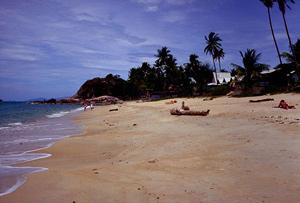 Image ©
2000 Steven Bailey
I reached Lamai Beach in a driving rain that soaked me to the bone, and shortly thereafter I lost my underwear. All this struck me as a bad omen. I had not been to Lamai Beach in years and wondered if it had changed for the worse. Certainly the rest of Thailand had descended into chaos. The currency spun in a nosedive, traffic jams paralyzed the smoggy capital and over-development wrecked famous resorts up and down the once beautiful coast. I feared that I'd lost not only my underwear, but one of my favorite vacation retreats as well.
Fortunately, I quickly discovered that Lamai Beach had hardly changed at all. The local laundry lady who misplaced my underwear remained an example of this. I'd met her years ago on my first visit to the island, when her family had worked a pair of rattletrap washing machines under a thatch roof. They had dried my laundry in the sun and made deliveries on foot. Now they had smart new dryers as well as washers in an air-conditioned shop and delivered their laundry on Honda motorbikes.
On closer inspection, however, I saw that little had actually changed. The family still spent most of the day dozing contentedly; as always, a palm grove stretched away behind the laundromat. The ocean continued to thump rhythmically against the beach across the street and a steady flow of tourists brought travel-stained T-shirts and socks for washing. Certainly the middle-aged laundry lady had retained her laid-back approach to business that remained typical of the island. This became apparent when I picked up my laundry bag.
"Excuse me," I said. "But this isn't my underwear."
"Sorry, darling," said the laundry lady with a lazy smile.
"When should I expect my underwear?" I asked as I handed over the unfamiliar briefs.
"Don't worry, darling. They are coming."
"They're coming when?"
"Maybe tomorrow, darling." The laundry lady tried to hand back the briefs. "You want to wear these until then?"
Already mellowed out by Lamai's torporous embrace, I declined the offer with a shrug and told her to let me know when my drawers reappeared.
Swimwear remained the dominant apparel of Lamai Beach and I hardly missed my AWOL underwear. Lazing on the beach or on a veranda with an ocean view remained the primary activity for most visitors to Lamai. More energetic tourists straddled jet skis or swam laps along the beach, but most just gazed languidly out to sea in between contented dreams of being exactly where they were. Sedated by sun and seafood, a pleasant inertia overcomes both local and farang (foreigner) alike.
National Treasures in the Gulf of Thailand

Like green gems scattered across a blue velvet table, Ko Samui and its eighty sister islands glitter in the Gulf of Thailand like national treasures. A classic tropical isle, Ko Samui is sixteen miles long by thirteen miles wide with a modest population of 35,000. About eighteen miles of open water separate Ko Samui from the mainland port of Surat Thani, and Bangkok is 300 air-miles to the north. Coconut plantations carpet the island and sustain much of the local economy (the island ships two million coconuts to Bangkok per month). Mountains rise to 2100 feet in the center of the island, their verdant slopes washed by waterfalls with names like Hin Lat and Na Muang. Beaches of white sand ring the coast and aqua water laps the shore. Spectacular sunrises erupt from the sea like orange flowers; brilliant sundowns set the skies aflame.
If Ko Samui sounds like a tropical paradise, that's because it is. I'm hardly divulging any travel secrets here as the island is well known and attracts a large number of tourists each year. With an airport and car-ferry service, the island remains easily accessible. Passenger ferries are timed to connect with express trains on the mainland and the importance of Ko Samui's tourist trade can be measured by the fact that when the ferry from the island is late, the night express to Bangkok will actually wait for it.
Ko Samui used to be the favorite haunt of the budget traveler crowd, but these days the island has become mainstream enough that hip young backpackers bypass it for neighboring Ko Pha-Ngan. This smaller and less-developed isle boasts famous all-night bacchanalian beach revels known as "full moon parties." During such events not just underwear, but shorts, T-shirts and brassieres can disappear as well.
The Ko Pha-Ngan crowd comes to Thailand in search of a mythical tropical paradise. They envision a single bungalow waiting specially for them on a deserted stretch of white sand. They seek the rustically exotic, and they most definitely do not want other farang around to spoil the picture. They do not really even want that many Thais around'just enough to cook dinner and stock the cooler with beer.
In defense of Ko Samui, I'd argue that given the sheer amount of tourists visiting each year, the island remains remarkably well preserved. After all, the beaches are what matter on Ko Samui, and they remain as beautiful as ever. Lamai Beach, for example, stretches in a long gentle crescent anchored by two craggy headlands. The pale aqua waters splinter into vivid white diamonds when cresting waves catch the sun. Ocean meets sky in a blurred, indistinct horizon of pale white and blue. The air is hot but fanned by an offshore breeze that smells of sea-salt.
Inexpensive beach bungalows line the sands under tall, slender coconut palms. Unlike so many other Thai beaches, Lamai remains unsullied by the looming hotel complexes or jutting piers that can kill a beach more quickly than the red tide. Behind the bungalows an erratically paved road parallels the beach. This is Lamai's main strip, jammed with bars, cafes, restaurants, second-hand bookshops, supermarkets, hairdressers and travel agents. Everything a traveler needs, from reliable long-distance phone service to bottles of white wine, can be found here. Even a new pair of underwear, if it came to that.
Return to the Seabreeze

Just as I had in the past, I rented a bungalow at the Seabreeze Inn. On the surface the guesthouse seemed quite different from how I remembered it, but underneath I discovered the same old Seabreeze with some of the same employees. I recognized Sumai, who had been with the Seabreeze since my earliest stay in 1989. More impressively, given my long absence, he recognized me. Perhaps contentment had sharpened Sumai's memory, because he was indeed a happy man. Years ago he had left impoverished and landlocked northern Thailand for Ko Samui, and had grown to love the island for more or less the same reasons I did, with one bonus: he earned good money in paradise.
Once the Seabreeze had been a sandy quad of weathered bungalows, with the beach at one end and the restaurant at the other. When I had lazed on my veranda I could see across this empty rectangle to all the other bungalows, which made the Seabreeze a bit of a public forum. Since then a lush garden has grown up to conceal each bungalow with a green hedge of privacy and over the years, the owners have replaced some of the original bungalows with proper concrete affairs. These are more expensive and have less character. I've always preferred to rent the older bungalows, which have been spruced up considerably but retain their archaic, jury-rigged plumbing, complete with slightly stinky squat toilet.
The Seabreeze had exactly what I wanted: peace and quiet. A beautiful sunswept beach with good swimming. A comfortable sea-view bungalow, complete with hammock. Friendly owners and staff. A veranda to write on each morning, with coffee freely available. Videos and cold beer at night. In fact, for $8 a night, the Seabreeze offered everything I needed except my underwear.
Dropping Out on Ko Samui

A seawall with wide concrete stairs set the Seabreeze off from the beach itself and at the top of these stairs sat a newly added beachfront bar with a talkative young barman named Pija. The lush greenery of the garden blocked a direct view of the bar from my veranda, and at night its lights shimmered invitingly through the banana leaves. Over the splash-thump of the surf I could hear the clink of glasses and happy voices speaking in English, German, Dutch and Thai.
Some nights I'd join the crowd at the bar. Typically this consisted of sun-bronzed Germans swilling Singha beer, but one evening I found a thin, balding Englishman sitting on a barstool with his arm in a sling. "Call me Chum," he said. "That's my Thai name."
An ex-Royal Navy sailor, Chum, a.k.a. James, had retired to Lamai on the strength of his pension. He liked to engage in a local sport where two contestants straddle a log and try to knock each other off with two-handed staffs. With bravery worthy of Admiral Nelson, one night Chum took on a young Thai forty years his junior and got thrashed so badly he shattered his arm, though this had not stopped him from finishing the fight. He took a perverse pleasure in the whole affair, as if it had been some sort of initiation into island life and he was now a local.
The Seabreeze attracts repeat customers like Chum who stay a long time, which means relatively few Americans as they rarely have large amounts of vacation time to spend abroad in Asia. The long-haul guests tend to be northern European and so many of them live on the island that the immigration service opened a special office just to deal with their visas. Five weeks marks my longest stay at the Seabreeze, but I commonly met guests who'd been there five months or more. The guests at the Seabreeze do not come to Ko Samui for a short vacation; they come to drop out of life in Europe altogether.
Seasonal Island Rhythms

Life on Ko Samui moves to two interlocking seasonal rhythms. The first is the unceasing rhythm of the tourists who arrive no matter what is happening in the rest of Thailand. Not even a military coup can stop them. However, while Ko Samui never lacks for vacationers, the number on the island fluctuates throughout the year. The tourist high season runs from December through March, plus July and August. During these months accommodations can be tight, prices may rise, and transportation arrangements must be booked in advance. During the busiest weeks travelers can occasionally be seen crashing on the beach for the night.
The second seasonal rhythm involves the weather. Weather patterns vary somewhat from year to year, and I found that opinions differed as to exactly when the dry season becomes the wet season. Suffice it to say that the first half of the year remains drier than the second half, with the end of the year showing a particular propensity for precipitation. I arrived at the Seabreeze in late June, a transitional month for weather patterns. Generally I found each day to be sunny from dawn to midday. At some point each afternoon a heavy deluge swept over the island. With monsoon fury, the downpour drummed on the corrugated metal roof of my bungalow and bashed about the garden's lush tropical greenery. The ocean took on a curious molded form as the rain smoothed the surface of the waves. And along Lamai's main drag huge lakes appeared, great muddy puddles that spanned the entire street and lapped greedily at the mini-marts, restaurants and hair salons lining the road. By dusk the rain had usually let up and to get to dinner I'd have to take off my flip-flops and wade gingerly through the brownish water that occasionally reached to mid-calf. One store I frequented had even constructed a little brick dike around the premises to ward off the wakes left by each passing songthaew (a pickup truck with benches in the back that serves as the island's primary mode of public transport).
Underwear Reappears at the Last Minute

My underwear had still not materialized by the morning of my departure from Lamai Beach. With a shrug, I walked out to the road to catch a songthaew to the ferry.
"Wait, darling," I heard a familiar voice call out as I loaded my pack into the truck. I turned around. "I have something for you," said the laundry lady. With a lazy smile she handed me a plastic bag containing my pressed and ironed underwear. The passengers in the songthaew looked on in amusement, perhaps misinterpreting the situation.
"You are leaving us, darling?" I said that I was. "You will be back, darling." The laundry lady made this statement with complete certainty. "I definitely will," I said with equal certainty and waved goodbye.
As the songthaew headed to the ferry dock in Na Thon, I felt glad to have regained my Fruit of the Looms. Not that I had ever been truly concerned. I knew that I would return to Ko Samui sooner or later and I also knew that when I did the laundry lady would still be there. So would Sumai, the Seabreeze and the warm Gulf of Thailand. For the more things changed on the island, the more things really stayed the same.
Author's Note:
There are multiple connections from Bangkok to Ko Samui. Bangkok Airways flies direct from the city's Don Muang International Airport to Ko Samui (approx $100 one-way). The night express train leaves Bangkok's Hualamphong Station each afternoon and arrives at the port of Surat Thani the following morning; ferry connections can be booked when arranging train tickets (approx $18 in a second-class sleeper). Direct bus service remains the cheapest, if least comfortable, option for reaching Ko Samui from Bangkok (approx $12-16 one-way). Any reputable Bangkok travel agent can easily make your travel arrangements to Ko Samui.
To get to the Seabreeze Inn, take a songthaew from the main town of Na Thon to Lamai Beach. When the songthaew leaves the main road and drives along Lamai Beach, look for the Seabreeze sign on the right. Basic bungalows start at $8/night.
---