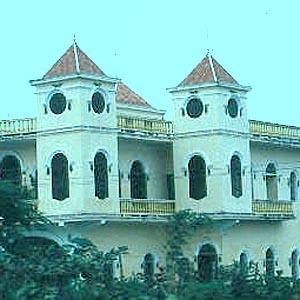 Image ©
2003 Graham Simmons
It's like a scene from a Walt Disney movie: a wedding-cake skyscape of turrets, cones, and pagoda-like roofs. This is Hanoi, in northern Vietnam.
The conical roofs that grace the skyline of suburban Hanoi seem to have emerged straight from the marketplace. Modelled on traditional peasants' hats, these roofs are evidence of the anthropomorphic principle carried over into architecture. Some of these buildings are brand-new, while others date back to way-distant antiquity.
It is said that Gothic architecture in Europe derived its exquisite harmony from a system of proportional measurements based on the human body. In Vietnam, both similar proportions and also similar forms can be seen. Not only are the roofs like hats, but some of the window apertures even seem to have "arms" sticking out at the appropriate height.
This style of architecture is based on an old Vietnamese tradition, whereby the dimensions of houses in the countryside were based on the owner's physical measurements. In urban areas this convention was not rigidly applied, but nevertheless, Hanoi houses evolved similarly. These houses had their own natural air-conditioning systems, with the difference in temperature between the inner courtyard and the outside street creating a natural airflow.
Even the brickworks that you see in rural areas on the outskirts of Hanoi follow this design principle, with low-slung roofs designed to deflect the rain from stacks of drying bricks. Further south in Vietnam (in the Mekong delta for example), the brickworks are completely different, with a beehive-shaped roof that can be seen many miles away.
Hanoi's newest craze, the millionaires' villas that rear their heads above the other houses in the city's outer suburbs, look like the fantasy creations of a surrealist designer. These new villas, each big enough to hold several families, are testimony to the emerging wealth of the new Vietnam. If you look closely, the windows reveal much about the traditional design principles used in their construction.
Another roof-style, that of classical pagoda design, can also widely be found in Hanoi. The pagoda, or chua, is based on Chinese Buddhist architecture, but is usually only of single-storey height. Behind a sacred pond or moat, entrance doors lead through a front hall and central hall to the main altar hall, crowned with a gabled roof bearing upturned eaves, which seem to be heaven-directed in a pointedly other-worldly gesture.
An example of this roof-style can be found right in the centre of Hanoi, adorning Lake Hoan Kiem's 19th century Ngoc Son Pagoda. Lake Hoan Kiem ("Restored Sword" Lake), just south of the bustling "old quarter" of Hanoi, is the main focal point of this gracious old city. It is named after a celebrated incident dating from the 1600s, in which a golden turtle is said to have risen out of the Lake and snatched a charmed sword from the Emperor's hands. This, the story goes, is the very same sword used to gain victory over the invading Ming Chinese.
A further example is the superb Quan So ("Ambassadors' ") Pagoda, very nearly a thousand years old and now the seat of the national Buddhist Sangha. When ambassadors from the neighbouring vassal states of Lao and Champa came to Vietnam, they used to vist this pagoda to pay their respects. Chinese Mahayana influences are predominant in the Quan So pagoda, which is more elaborate than some of its Indian-derived predecessors.
Seen from the air, Hanoi is a architectural mélange without peer, reflecting Chinese, French colonial, Art Deco, Russian and contemporary Western influences, as well as traditional Vietnamese design principles (though it is fortunate indeed that the 1983 plan to turn the city into a clone of Leningrad - now St Petersburg - was scrapped. It is little wonder then that Hanoi turns heads at every turn.
* * * * *
Fact File
Getting There:
Vietnam Airlines flies regularly from Los Angeles to Hanoi, via Taipei..
Hanoi is still a second-runner to Ho Chi Minh City (Saigon) in terms of international connections; however, the gap is now narrowing.
Where to Stay:
Note: Country Code for Vietnam is +84, and area code for Hanoi 4.
Hanoi, formerly with a dearth of good accommodations, is now undergoing a hotel boom. A range of hotels, from luxury to budget, is given here, with prices in $US:
Sofitel Metropole, the grand olde hotel of Hanoi, 15 Ngo Quyen St, tel 826 6919, fax 8826 6920, $US200 single or double.
Daewoo Hotel, Hanoi's first 5-star establishment, 411 rooms; the only member in Vietnam of Leading Hotels of the World, corner Ngoc Khanh and Lien Giai Streets, tel 834 9467, fax 834 5744.
Hoang Ngoc (Oriental Pearl) Hotel, elegantly furnished, just 14 rooms: a true "boutique" establishment, tel 823 2660, fax 823 2605, $US29-59 (including buffet breakfast), plus 15% taxes (note: they give a 20% discount if you stay a year or longer!).
Camellia Hotel, my favourite hotel in Hanoi, but you won't find it in any of the guide books: excellent and friendly service, 81 Thuoc Bac Street, tel 828 2376, fax 828 2404, $US15 including breakfast, for clean ensuite rooms with 9-channel satellite TV.
Queen Café and Guest House, 65 Hang Bac Street, a good café very popular with travellers (this can be a plus or a minus), and with very basic rooms attached, tel 826 0860, $US4-15.
Motorbike Hire:
Good quality Japanese bikes are on hire throughout Hanoi - ask at your hotel. Going price is $US10 a day. Petrol (gasoline) costs just 3400 dong (US 30¢) a litre.
Must See:
Lake Hoan Kiem, with Ngoc Son Pagoda and Tortoise Tower.
Van Mieu Temple of Literature, built in 1070, and still a potent symbol of the reverence that the Vietnamese attach to scholarship.
Hang Quang Street, a whole avenue of shops selling Buddhist paraphernalia.
Ly Thuong Kiet Street: "Embassy Row", lined with graceful jacaranda trees. Hai Ba Trung Temple, in memory of the famous 1st Century Trung sisters.
* * * * *
---