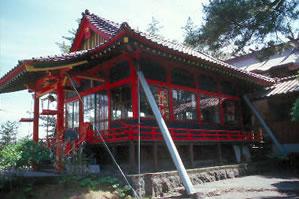 Image ©
2001 Graham Simmons
I didn't get erupted upon while on Sakurajima Island. Maybe the volcano was taking a rest (it being a Sunday) or maybe it was because the earth goddess Tsukiyomi was in a benevolent mood that day.
Japan's Sakurajima Island is home to one of the world's most active volcanic peaks, Minami-Dake, connected by a low saddle to two other still higher peaks. Minami-Dake most recently erupted in 1986, and still almost daily spews forth ash, or at the very least copious quantities of smoke and steam. The citizens of the city of Kagoshima, on the mainland just ten minutes by ferry from Sakurajima Island, live in constant fear of an unwelcome lava rainstorm.
It was by sheer accident that I found myself in Kagoshima. The train from Osaka had arrived at Fukuoka in Japan's southern island precisely at 2359. Still three-quarters asleep, I staggered across the platform to the nearest stationary train.
At six the next morning, the train pulled into Nishi-Kagoshima station. The palm trees waving in the breeze seemed most un-Japanese - had I accidentally taken an under-sea tunnel to Hawaii?
From Nishi-Kagoshima station, a walk over Takami Bridge is an excellent introduction to this, the most open of all Japanese cities. During the 267 year period when it was forbidden for Japanese to travel abroad, the Shimazu dynasty in Kagoshima smuggled 17 students out of the country to learn Western manufacturing techniques. In front of the railway station is a statue commemorating this event
The station precinct also has an outstanding Museum of the Meiji Restoration, together with displays commemorating Okubo Toshimichi, one of the leading lights who helped end Japan's isolation in the Restoration of the late 1860s. He achieved this by negotiating a peace with British warships which had penetrated right into Kinko Bay, near Sakurajima Island.
Sakurajima Island can be reached by ferry from Kagoshima, just 10 minutes and ¥150 (about $NZ 2.50). Provided you don't get covered in lava during the trip, you can just relax and enjoy the fine views of the volcano, with its bamboo-swathed fore-hills.
From Sakurajima Boat Terminal, just a short walk brings you to the Sakurajima Visitors' Centre, with its amazing high-tech simulation of a volcanic eruption, a performance that is automatically activated when you enter the room. And something else very Japanese - a little vase of fresh flowers in the public toilets.
To see more of the volcanic mountain, you can climb the road leading up past the Dinosaur Park, overlooking the Ferry Wharf. The view from the top, over the volcano to the east and Kagoshima Harbour to the west, are spectacular.
Good views can also be had from the hilltop Tsukiyomi-Jinja shrine. This popular pilgrimage spot, approached through a concrete Torii (gateway), is a serene place to rest a while.
The JR Red Bus circles the island (a round trip of 36 km), a trip that's free to holders of the JR Rail Pass. The bus climbs slowly along a winding road, while alongside the road, steam rises from a thousand hidden crevices. The route takes you past a lunar landscape of jagged lava-boulders, with gingko trees and pines struggling to re-generate themselves.
A good spot to alight is at the Furusato Hot Springs, just below the elegant Furusanto Kanko Hotel. Here, for a total of ¥ 895 (less if you bring your own towel), you can bathe in a totally relaxing warm-spring pool right on the oceanfront. This pool also serves as a shrine, with statues of local deities placed gracefully among the rocks.
Back on the mainland, Kagoshima has plenty to keep the visitor both amazed and amused. A star attraction is the new Kagoshima City Aquarium, right at the Sakurajima Ferry Terminal, which just opened on 31 May 1997.
A trip out to the Iso-teien Gardens is a highlight, too. These 17th Century Gardens are notable as much for the buildings and other structures as for their collection of both native and exotic plants.
Take, for example, the Cat Shrine, established by Yoshihiro, the 17th Lord of Shimadzu. He was said to be able to tell the time by the size of the eye-pupils of his cats - and even today, a special "time-keeping" ceremony is held here each year on 7 June by the city's watchmakers and jewellers.
Dog-lovers will be fascinated by Kagoshima, too. Apparently, a powerful shogun was told by a priest that his illnesses were due to having mistreated a dog in a past life. He thereupon established dog refuges throughout the district, where dogs were housed in luxury and fed on gourmet cuisine!
I retreated from this story with my tail between my legs, and adjourned to take a look at Iso Beach. It's a small beach, but with clean white sand and throngs of sun-worshippers. Out at sea, wind-surfers are demonstrating admirable skill. This is the face of the new Japan, a place where people are learning to take it easy.
You can take it easy at Ibusuki, too. This is a neat little resort town on a peninsula just south of Kagoshima, a little over an hour by train from Nishi Kagoshima. This time of year (early June) it's out-of-season and quiet, but along the palm-treed esplanade, kimono-dressed vacationers are strolling lazily.
Maybe their restful state is due to the famous hot-sand "baths" of Ibusuki. Here, masochistic visitors are immersed to their necks in hot-spring fed black sand. It's said to be a cure for which there is no known disease
And just possibly, you could say the same thing about the rest of Japan too.
FACT FILE
Getting There:
Japan Airlines flies regularly to Fukuoka.
To get around Japan, don't even think of anything but a JR Rail Pass. This may sound expensive, at ¥ 28,300 for 7 days, but you get so much for this price that it will end up meaning the difference between an affordable holiday and financial ruin.
With a JR pass, you can catch the night trains from Fukuoka (Hakata station) and to Nishi Kagoshima, thus saving on a night's accommodation into the bargain.
The JR Pass also takes you right around Sakurajima Island by red bus. With the Pass, you can get on or off at will.
Where to Stay:
On Sakurajima Island:
Furusanto Kanko Hotel (tel (099) 221-3111, fax (099) 221-2375), a grand establishment overlooking the sea right on the southern tip of the island, has Japanese-style rooms from ¥ 7,500 to 14,000, or ¥ 15,000-28,000 including two meals a day.
Sakurajima Youth Hostel(tel (022) 293-2150, ¥2, 300 without meals.
Kagoshima:


Silk Inn Kagoshima (tel (099) 258 1221), rooms from ¥ 5,500.
Ibusuki:


Tamaya Youth Hostel (tel (099) 322-3553) is a quiet Japanese-style establishment. Out-of-season (ie any time except Feb-Mar and Jul-Aug), you could well have the place to yourself.
Acknowledgements:
The author wishes to acknowledge the kind assistance of Ansett Australia Airlines and the Japan National Tourist Office in facilitating this visit to Japan.
---