Taipa and Coloane: A Tale of Two Islands
---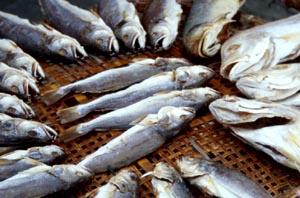 Image ©
2002 Steven K. Bailey
The Ponte de Amizade Bridge stretches out before me like a great white ribbon leading to the green bouquet of a distant island. I've just motored out of downtown Macau, a fascinating but highly urbanized warren of cobblestone streets and colonial buildings, highway flyovers and ferry piers. Much as I love the city center, I'm craving something a bit less frenetic and a bit more green. So I'm crossing the bridge to Taipa and Coloane, two of the most unique islands in Asia.
From Portuguese Colonialists to Chinese Communists
I first visited Macau in 1997 and have been coming back ever since. As for the Portuguese, they first arrived in the sixteenth century. Like me, they came by sea. Hydrofoil ferry from Hong Kong in my case; galleon from Lisbon in theirs. These first Portuguese traders set up shop in Macau in 1573, and their nascent colony prospered as Portugal became the world's dominant maritime power. Macau became a key link in the trading network that connected Europe, China, and Japan. The colony also became command central for the Jesuits, missionaries, and assorted other Catholic zealots seeking to spread their religion across Asia.
Macau's fortunes waned, however, as the Portuguese colonial empire declined in the seventeenth century. The silting up of Macau's harbor and the rise of British-ruled Hong Kong in the 1800s further relegated the enclave to the backwaters of history, where it languished in obscurity under somewhat indifferent Portuguese rule. In the twentieth century Macau survived on its legalized casino gambling, which attracted high-rollers from the increasingly prosperous Hong Kong but left the city with an undeservedly tawdry reputation.
Portugal happily returned Macau to China in December 1999, thereby closing the book on European colonial history in Asia. The Portuguese had been the first in and the last out. The Chinese, of course, had been there all along and had always been the ultimate arbiters of Macau's fate. This remains as true today as it was four-hundred years ago, for while Macau's fortunes have improved with the rising prosperity of China, any future political or economic chaos on the mainland will be mirrored in Macau as well.
Like Hong Kong, Macau has been designated a Special Administrative Region (SAR). As such it remains an integral part of China but enjoys considerable autonomy. Approximately 436,000 people live in Macau, nearly all of them Chinese. Situated forty miles southwest of Hong Kong on the Chinese coast, the fourteen-square-mile enclave consists of the Macau peninsula and the adjacent islands of Taipa and Coloane.
Taipa: Macau's Satellite City
I drive over the graceful Ponte de Amizade Bridge, knowing that I'm crossing more than just water. I'm crossing a divide between urban and green. Between city life and village life. Between the twenty-first century and the sixteenth century.
At the end of the three-mile-long bridge I land on Taipa, an island that has been growing like a young lily pad on a pond. The most recent statistics I can find peg Taipa's land mass at three and a half square miles, but I'm certain this statistic is as out of date as a quote from a year-old stock report. No one really knows the precise size of Taipa, because like all of Macau, the island constantly expands through land-reclamation schemes. Taipa, in fact, used to be three islands: Taipa Grande, Taipa Pequena and Kun Iam. Somewhere in China entire hilltops have been blasted, quarried, and carted away to Taipa for fill.
As I find everywhere in Macau, Taipa presents me with an intriguing blend of the ancient and modern world. I soon learn that anything new on Taipa tends to be large. The recently opened international airport, for example, features an offshore runway longer than the island itself. Taipa also hosts the Macau Jockey Club, the Hyatt Regency Hotel, the University of Macau, the solid waste incinerator, the power station, and a small forest of apartment blocks complete with their own McDonald's restaurant. City planners consider Taipa to be Macau's satellite city, though this strikes me as a bit of an overstatement. After all, only ten-thousand residents call Taipa home.
After cruising the new parts of town I visit the ancient Chinese village of Taipa, where the scale shrinks considerably. Small and compact, Taipa village rests in the shadow of highrise tower blocks, providing just one of many sharp contrasts on an island chock full of them. I wander through a warren of pedestrian streets and alleys fronted by buildings mixing European and Chinese architecture. Colorful flags dangle over Rua da Restauracao, a street name that needs no translation. Tiny shops sell vegetables, fruit, Chinese dumplings, and Portuguese wine. The Ka Sin Tong temple stands not far from Our Lady of Carmel Church, built in 1835 for the island's thirty-five Catholics.
On the nearby Avenida de Praia (Praya Causeway), I stroll past five lovingly restored colonial mansions standing in the shade of venerable Banyan trees. Built in 1921, these green and white villas housed Portuguese colonial officials back when Taipa could only be reached by ferry. They now serve as museums open to the public. Admission is free, and their high-powered air-conditioning offers me a welcome respite from Macau's blistering summer heat.
I discover that no fewer than eight cemeteries dot the slopes of Taipa, which has long served as Macau's graveyard. Like the scattered pages of an old history book, these tombs and gravestones trace Macau's history. Victims of the 1874 typhoon rest in one cemetery; in another lie those killed in an explosion at a fireworks factory. Fortunately, they won't be joined by any new casualties, as the last pyrotechnic factory in Taipa has shut its doors and awaits redevelopment. Many of the enclave's most famous residents have found a permanent home in the cemeteries of Taipa, including Madam Lou Mou Cheng, first wife of Dr. Sun Yat Sen. But whether they belong to a taipan or a peasant, all tombs and graves have been situated according to the rules of feng shui, a widely practiced form of Chinese geomancy that translates as "water and wind." Thus the ghosts of Taipa rest easy.
Coloane: Macau's Countryside
I cross the wide causeway built on reclaimed land that connects Taipa to Coloane. Physically, the two islands have been welded into one land mass, but they nonetheless remain distinctly different in character. For if Taipa serves as Macau's suburbs, then Coloane qualifies as its countryside.
Craggy and green, the hills of Coloane rise up at the end of the causeway with a blunt pugnacity that belies the island's park-like atmosphere. As I traverse the little island on narrow, winding roads I frequently come across trailheads that climb into the pine-forested hills. The tallest ridge reaches to 560 feet, and as the highest point in Macau it offers a sweeping view of the surrounding land and sea. I circle the island, passing the black sand beach of Hac Sa and the quiet sweep of Cheoc Van Beach, until I reach Coloane village.
Coloane village stands as a living testament to Macau's dual Portuguese and Cantonese heritage. The village centers on Eduardo Marques Square, a rectangle paved in black and white cobbles laid out in a wavy pattern reminiscent of the sea. The square-largo in Portuguese-faces a seaside promenade that traces the channel dividing Macau from the dusty hills of China proper. At the opposite end of the square stands the mustard-colored Chapel of St. Francis Xavier, built in 1928 and housing the holy bones of Portuguese, Japanese and Vietnamese Catholic martyrs.
I feel the past and present fuzz pleasantly together as I leave the square and walk down narrow village lanes, most of which can barely fit a motorcycle much less a car. Locals pass me carrying mobile phones and songbirds in wicker cages. Round portals in stucco walls offer intriguing views of Chinese temples awash in incense smoke. TV antennas sprout on the tiled roofs overhead; feng shui mirrors hang above wooden doors to ward of evil spirits, who see their own reflection and flee in terror.
On the outskirts of town I find a small pier with a border post as laid-back as everything else on Coloane. The lone policeman on duty lets me walk out on to the pier, where locals cast for fish as a scattering of mainland Chinese come over from Zhuhai on a puttering little ferry reminiscent of the days when Coloane could only be reached by boat. Nobody bothers with passports and ID cards. Unlike most border posts I've encountered in my travels, the atmosphere remains friendly in a somnolent kind of way.
Not far from the border post I discover a dilapidated wooden barn surrounded by berms of sawdust and scrapwood. Inside the shed ancient and modern meet with a sharp whine that makes my ears ring. Men armed with powertools craft the hulls of traditional dragonboats from long lengths of tree trunk, while women paint the colorful dragon heads that will adorn the bows. In June, they tell me, the boats will race in the annual dragonboat festival.
Hungry, I retrace my steps back into the village. Macau is a gourmand's paradise, and nowhere is this more evident than in the cafes and restaurants fronting the old square of Coloane village. Here the enclave's unique blend of Portuguese and Chinese cuisine continues to simmer like a fine stew on the stove of history. At the Café Nga Tim I enjoy a leisurely midday meal of curried crab, beef chow mein, fried prawns seasoned with garlic and chilies, and cold Tsing Tao beer.
Only 2500 very lucky people live on Coloane, and they all seem to know each other. Residents constantly duck in and out of the café, greeting neighbors and colleagues, swapping gossip, joining friends for drinks or a meal. For a few hours, I'm an honorary member of this community. The Chinese proprietor joins me for a chat, as does an expatriate English couple who run a PR business. All in all, the café lives up to its name, which translates roughly as "A Good Place to Relax Cafe."
For dessert I stroll over to Lord Stow's Bakery on Coloane's other largo-the Portuguese endowed Macau with a profundity of town squares-where I sample a brace of egg tarts, a local favorite. Based on the Portuguese pasteis de nata, the tarts come filled with a mix of cream and egg yolk in a crisp pastry crust.
Culture of Islands as Solid as Rocks They're Based On
Two bridges connect Taipa and Coloane to the city of Macau; a third span has reached the planning stage. A fourth bridge offers direct access to China. These bridges tether the islands to the mainland like thick hawsers holding ships to a pier. Nonetheless, it pleases me to discover that both Taipa and Coloane still remain islands in both spirit and atmosphere, if not exactly in geographic fact.
After all, as I've found true on islands everywhere, life on Taipa and Coloane moves at a more relaxed and traditional pace. Time often seems to slow or stop altogether. The people of Taipa and Coloane tend to stick with what they know and approach change with caution. I reckon that this is no bad thing in a region of the world where rapid change can replace whole city blocks or entire governments in a span of weeks.
As I return to downtown Macau via the Ponte de Amizade Bridge, I'm already planning my next visit to the islands. I want to hurry back, but also know that I don't need to, for like the rock of the islands themselves, the unique culture of Taipa and Coloane will long endure.
* * * * *
Fact File:
Getting There: Most visitors to Macau arrive from Hong Kong. High-speed ferries depart from Hong Kong's Shun Tak Centre (200 Connaught Road, Sheung Wan; accessible from Sheung Wan metro station). The ferries run 24 hours a day, leaving every fifteen minutes during peak hours. The sixty-minute journey costs from $130 to $160 Hong Kong dollars each way (approximately $20 USD). Advance ticket purchases are not generally necessary, except during holidays and weekends. Those prone to seasickness should keep an eye on the weather, as rides are occasionally rough enough to unsettle the stomach.
Passport Control: Citizens of the United States, Canada, and most European countries only need a valid passport to enter Macau for a period of up to twenty days.
Getting Around: Bus service from downtown Macau to Taipa and Coloane is frequent and cheap, with a maximum fare of six pataca (approximately $0.75 USD). Keep in mind that while Hong Kong dollar banknotes are widely accepted in Macau, coins are not. Get pataca coins in the ferry terminal before heading for the bus stop, as exact change is required for the bus fare. Taxis to the islands cost considerably more than the buses, though the fares are not prohibitive if split between several passengers. There is no ferry service to the islands from the city center.
Eating Options Mentioned In Story Above: Café Nga Tim is at Rua Caetano No. 8 (on Eduardo Marques Square, also known as Church Square), Coloane village. Phone: 882-086. Open daily noon to one a.m. Lord Stow's Bakery is on President A. R. Eanes Square in Coloane village. Phone: 882534. Email: eggtarts@lords.com. Taipa and Coloane offer many more excellent restaurants of various styles and prices.
* * * * *
---