Temburong: Humungle In The Jungle
---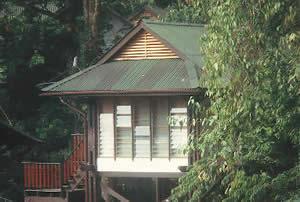 Image ©
2000 Graham Simmons
Geographical oddities always hold a peculiar fascination. Few are more fascinating than Temburong, a self-contained district of the Sultanate of Brunei Darussalam, on the northern coast of the island of Borneo.
Temburong, a name not on everyone's lips, is a little enclave all on its own, a part of Brunei but surrounded by Sarawak, in much the same way as Nagorno-Karabakh is a part of Armenia despite being surrounded by Azerbaijan.
The difference is that Temburong is peaceful, prosperous and scenically magnificent. And deep in the rainforest lies Ulu Temburong, Brunei's first national park, gazetted just three years ago.
The tropical rain forests of Brunei Darussalam are among the richest and most diverse ecosystems in the world. At the moment a substantial portion (i.e. 80 percent) of Brunei's total land area of 5,791 sq. km is still covered by a variety of forest types, most of which are easily accessible from the capital city, Bandar Seri Begawan.
Brunei's oil wealth has meant that, unlike in neighbouring Sarawak, there has been little pressure for logging in the country's forests. As a result, Brunei offers the "eco-tourist" opportunities to experience some of the richest and most diverse forests in the world.
There's an old cliché that says "getting there is half the fun". In the case of Ulu Temburong National Park, this is doubly true. First you have to navigate the rivers and open seas that separate Temburong from the main part of Brunei, then it's an exhilarating longboat trip up-river. Were it not for the humungous scenery, arriving at the National Park itself would be an anticlimax.
Speedboats to Temburong leave from the centre of Bandar Seri Begawan, Brunei's capital, every 45 minutes or so between 7 a.m. and 5 p.m. "Take one of the yellow boats", recommended an innocent bystander, "they're faster!"
Whatever the case, the trip in one of these so-called "flying coffins" proved to be uneventful. In fact, the ride turned out to be most enjoyable, along winding, narrow creeks and then out to sea before veering back into the wide Temburong River.
Batang Duri is a small riverbank settlement with an Outward Bound School, some 13 km south of Bangar, the modest "capital" of Temburong District. With guides Suki and Kamsul, we're heading up-river towards Ulu Temburong, in a well-constructed wooden temuai (longboat).
Outside the rainy season, the water level in the Temburong River drops dramatically. Negotiating the river rapids then becomes an art form. The technique is to charge the rapids at full throttle - then, just before you hit the rocks, to cut the motor and raise the propeller. You then have to pole and cajole the boat upstream, until you're clear of the rocks.
In this manner, we make steady progress upriver, over a seemingly endless series of rapids. All around, the steaming, hissing, humming "green noise" of the jungle is broken by the chirpy twittering of a thousand different birds.
Ulu Temburong National Park, with an area of about 50,000 hectares, lies at the confluence of the Temburong and Belalong Rivers. An attractive park Headquarters, with rest-huts and amenities, is now open to visitors. All visitors are required to register in the visitors' book. The 134th entry in the book reads "HRH the Prince of Wales", signed simply as "Charles".
A network of nature trails criss-crosses Ulu Temburong National Park. This network includes over 7 km of wooden walkways, designed to protect the ground vegetation and prevent erosion. The highlight is the jungle canopy walkway.
Getting to the jungle canopy walkway involves a long, steep climb. But the views and the wildlife are ample reward, and the climb is broken by a series of relaxing pondoks (rest-huts) along the way. Beside the pathway you could spot moss deer, wild pigs or hornbills, while the rainforest trees draped in weird stranglers and epiphytes seem to form a self-contained world. And when you get to the very highest walkway, you look right down on the canopies of the tallest trees, which cascade onto one another as if in a celestial garden.
A number of excellent chalets, each housing up to six and with all mod-cons (including hot showers!), have been built near the Ulu Temburong Park HQ. There is also a fully-equipped kitchen, as well as one self-contained two-bedroom house with kitchenette and ensuite facilities. All accommodations are charged at a nominal fee, but you must register well in advance (see Fact File) and bring all your own supplies.
The new Ulu Temburong National Park interpretive centre, also located near the Park HQ, opened just recently. This is a further most valuable addition to the Park's assets.
The number of people wishing to visit Ulu Temburong National Park already exceeds available resources. To ensure proper management of Park facilities, all prospective visitors are required to apply well in advance to the Department of Forestry (once again, see Fact File for details).
Ulu Temburong National Park is the jewel in Brunei's crown of forest reserves. But, in line with the country's national conservation policy, virtually all of Brunei's forests, totalling nearly 500,000 hectares, have been designated either as Protection Forests, Production Forests, Conservation Forests, Recreation Forests or National Parks.
To date, the Forestry Department has developed seven Forest Recreation Parks (FRP) in strategic locations of the country, namely Bukit Subok FRP, along Jalan Residency near BSB city centre; Sungai Lumut Arboretum, along Labi Rd; Sungai Liang RFP, in Sungai Liang; Luagan Lalak FRP, along Labi Road; Bukit Shahbandar FRP, in Jerudong; Berakas FRP, at Lambak Kanan and Peradayan FRP, east of Bangar in Temburong district. In addition, there are three wildlife sanctuaries under the jurisdiction of the Museums Department: the islands of Berambang (721ha) and Siarau (488ha) and the Tasik Merimbun (7,720ha) Nature Park.
A long day-trip to the unspoiled environment of Ulu Temburong allows the visitor to experience a wide variety of forest types. However, a longer and more adventurous visit is recommended if time permits - from an overnight stay to a week or more.
Tourism to Brunei, and eco-tourism in particular, is still in infancy. Like all infants, it needs to be carefully nurtured. But there appears to be little doubt that a modest flow of appreciative visitors will greatly enhance the world's understanding of Brunei's unique natural resources.
FACT FILE
Registration:
All prospective visitors must apply well in advance (there is a waiting list) to:
Department of Forestry
Ministry of Industry and Primary Resources
Bandar Seri Begawan
BRUNEI DARUSSALAM
When applying, state the number in your party, intended length of stay, and type of accommodation required (if any).
Getting There:
Royal Brunei Airlines flies twice a week (Mon & Thu) from Brisbane to Bandar Seri Begawan.
 
From the wharf in Jalan Residency, BSB, fast ferries leave to Temburong when full, between 7 am and 5 pm daily. (Note that the last ferry back from Temburong is at about 4:30 pm). The fare is $B7 ($US4) one way.
Tour Operators:
The following tour operators are highly experienced, and can advise on trips to Ulu Temburong National Park:
Sunshine Borneo Tours and Travel
PO Box 2612
Bandar Seri Begawan 1926
BRUNEI DARUSSALAM
tel +673 2 44 6812
fax +673 2 44 1790
 
Freme Travel Service Sdn Bhd (Inbound Division)
PO Box 3075
Bandar Seri Begawan 1930
BRUNEI DARUSSALAM
tel +673 2 23 4280
fax +673 2 23 4284
 
Continental Yachting Sdn Bhd
PO Box 104
Muara 4001
BRUNEI DARUSSALAM
tel +673 2 77 2987
fax +673 2 77 2986
 
Trandie (sic) Marina Resorts Sdn Bhd
PO Box 2234
Bandar Seri Begawan 1922
BRUNEI DARUSSALAM
tel +673 2 24 0876
fax +673 2 22 1728
---