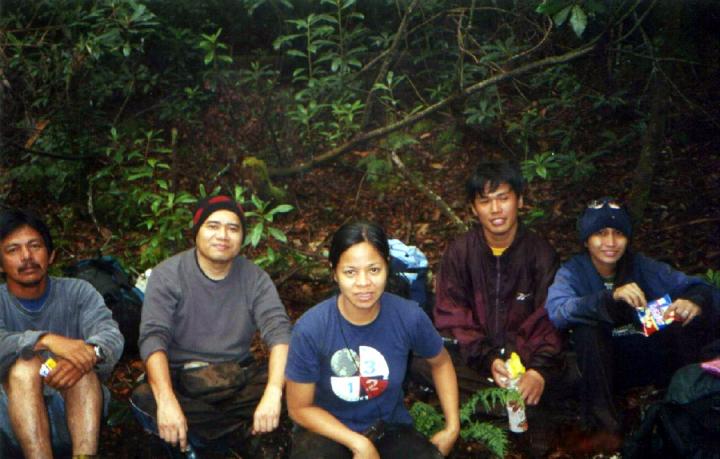 I breathed heavily as I walked over a rugged trail under slightly overcast skies. Carrying my 15-kilo backpack made each step several times more difficult. A feeling of frustration crept inside me. It was only the first few hours of my first climb to Mt. Apo, the Philippines' highest peak, and there I was, gasping for air!
     For hours, I have been trying to keep up with the pace of my more experienced climbing companions who were way ahead of me. It turned out to be a thoughtless display of conceit which I would later regret. Sweating profusely, I heard my heart throbbing faster and harder. Thud-thud, thud-thud, thud-thud, it went. Realizing my folly, I slowed down and accepted I wasn't up to par yet. I made myself believe I was ready for the climb, thinking that sheer guts would be enough. Early in the ascent, I was proven wrong. Although seven kilos lighter than my old 70-kilo frame, I realized that my body lacked the required exercise. The two-month long routine on my stationary bike wasn't enough. The climb to the country's rooftop demanded more preparation than that.
     Growing up in Davao City, in southern Philippines, I had long wanted to scale the heights of Apo (3,143 meters above sea level), whose silvery cone I often get to see on the way to where I work. Climbing it would enable me to test the limits of my endurance. But the chance to go to the peak seemed elusive as the wind. Each time I decided to go vertical, something always came in the way of my best-laid plans. On day, Rogelio "Odie" Royo and Florante "Anting" Ferraren, two officemates, who have turned the trek to Apo into an annual act of penance during Lent, helped pave the way for my first climb to the mountain. Upon knowing my plan, they displayed interest to show me the ropes.
     It was a cold Wednesday morning when the three of us, along with thirty others, left Davao. Destination: Kapatagan in nearby Digos City, the jump-off point of the trek. Seasoned climbers said the village has one of the more difficult trails to the mountain. For the first day of the climb, our objective was to reach Goody-Goody, a campsite on the way to the summit. Odie briefed us that it would take about a day to reach the said place, starting from where the vehicles dropped us. Filled with excitement, I joined Odie's group as we plod the unwieldy path, confident I could reach our destination on time. By noon, a drizzle fell. Soaked, my backpack got heavier, forcing me to slow down and part company from the others.
     Coming across a gorge in the woods, a twinge of fear suddenly stabbed me, rubbing away the confidence I displayed earlier. The thought that I would not be able to reach my destination kept pounding inside my head. I also began to question myself why I was there when I could be having fun some place else. Alone in the wilderness, I heard myself praying aloud. "Lord, please help me make it through that gorge," I pleaded. Feeling edgy, I slowly went down, gripping every stalk, vine and root I could lay my hands on, holding on to dear life. I landed luckily in one piece. Inspired by that victory at the gorge, I felt swells of courage penetrate my nerves, arming me with confidence to win the battle against self-doubt.
     It was still raining when I reached the clearing where Anting and his group have opted to encamp for the night instead of proceeding to Goody-Goody. Odie and company have gone ahead. Straining as most of my muscles ached, I joined my colleagues for dinner, which was served before dusk enveloped the forest. To help ward off the cold that numbed my hands and feet, Anting gave me several shots of gin. Later that night, I barely slept, tossing and turning as the rain battered and seeped into our tent.
     Maundy Thursday. The rest of me wanted to stay inside the tent but I managed to gather enough strength to get up. Still quivering, I drank hot coffee to fight off the chill. Anting and some of those in our group defied the cold by taking a dip in the icy waters of the nearby stream. I chose to stink like a goat than get wet. Not wanting my backpack to weigh me down, I swallowed my pride and hired a porter as we continued our trek. That decision turned out to be a sound one. As the trail became steeper, the air turned colder and the fogs grew thicker, making the climb more difficult. Without a pack, I trekked faster. Left to my own devices, I hiked through large puddles of mud, jumped over fallen logs, crawled underground, trudged into dense shrubbery and walked over planks. Passing by a stream, I rested and filled my empty container with water. It was a uniquely humbling experience as I drank from that source, unmindful of its safety. Hours later, I reached Goody-Goody where I was reunited with Anting and the others. Odie and his group have proceeded to the boulders. Later that afternoon, we followed suit.
     The trail to the boulders outclassed the other difficulties I had encountered. As I reached a treacherous footpath, I refrained from looking down for fear of vertigo. If my calculations were right, I must have been treading on ground about 2,000 meters above sea level. Moments later, the sight of the formidable boulders left me awestruck. They were a towering assemblage of rocks that seemed to reach upward into the sky. The arduous climb to the top of the stones required climbers to ascend around 45 to 90 degrees. Could I do it?
     It took me about three hours — the longest three hours of my life! — before reaching the top. Hanging by a thread, I maneuvered my way safely through those rocks. Famished, I recalled missing my lunch. If not for the water Anting had left, I would have cracked up. Just when I thought the worse was over, I heard the other trekkers say that there's one more 90-degree slope we had to conquer. "Oh, no, not again!" I protested. Angry, thirsty and hungry, I wanted out. But there was no way out — but up. Fighting the desperation that was welling up inside me, I summoned all my strength for the last hurrah to the top.
     Exhausted, I gazed upwards and realized I was only a few steps away from the Philippines' rooftop. Once there, I was dumbfounded by what I saw: spread before me was a magnificent view of the cities of Davao and Digos, bathed in lights, shining like diamonds under the full moon. It was a spectacle so sublime, reminding me just how tiny a speck I am in this great planet of ours.
     A drinking spree was in progress when I arrived at the campsite. Odie welcomed me with a cup of steaming hot noodles, which I gobbled up inside my tent. Outside, the din reached fever pitch as my companions drank and raised the roof till midnight. But it hardly disturbed me. Still on cloud nine, I slept like a log atop the country's highest peak.
     Good Friday. With my body still smarting from pain, I joined Odie and company as we explored the seven summits of Apo, searching for the perfect spot to get strong mobile phone signals. How I wanted to text everyone in my phone list and let them know where I was but, alas, my gizmo had run out of power.
     By noon, we packed up and began our descent to Lake Venado where we would encamp for the night. The trail to the lake was deceptive; it appeared easy as pie at the outset. Further down the line, however, it was fraught with obstacles. Large cakes of mud clung like adhesive all over my rubber shoes as I made my downward course. Twice, their traction wore away, causing me to lose my balance but not my patience. Inching my way through the sloping terrain interspersed with thick and lofty cogon grass, I finally set foot on solid, low-lying ground.
     Black Saturday. The cold was unforgiving during the wee hours of the morning. The three layers of clothes plus two sweatshirts, pair of socks and bonnet that I wore failed to drive away the chill but they kept me from getting hypothermic. I buried myself into the sleeping bag and tried to go back to sleep.
     Hours later, we decamped and proceeded downstream towards Agko in Kidapawan City. Surprisingly, I was unruffled by pain even as sharp twigs bruised my arms, thorny shrubs pierced my hands and bees stung my shoulder, neck and ear. The thought of the creature comforts awaiting us in Kidapawan must have helped eased it.
     After a brief rest at Lake Mainit, we moved on with extreme urgency, as if afraid that tomorrow would never come. In high spirits, I braved the current of the mighty Marbel River, leaped from one boulder to another, and trekked relentlessly, pushing myself to the nth degree. Before darkness could overtake me, I arrived at Agko, bruised and battered but nonetheless braver than my old self. Catching my breath, I was pleased to hear the roar of the vehicles that would take us back to Davao.
     Days passed. I caught a glimpse of Apo's majestic cone on the way to the office. It brought back memories of my humbling experiences during the trek. Altogether, they reminded me to study and prepare for my every move, to tread fast but not too fast or I'll tumble, to take it slow but not too slow or I'll be left in the cold, to give way to others and wait for my turn, to trust the kindness of strangers and to rely more on myself and my own resources to survive. In silence, I thanked the mountain for all the lessons in humility.
---