Wild Cows and Ghost Towns: Hiking Hong Kong
---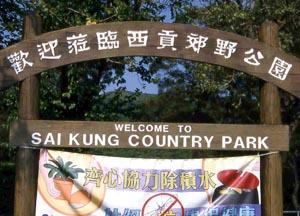 Image ©
2003 Steven K. Bailey
I always thought that free-ranging steers and spooky ghost towns were exclusive to the American wild west. Until I explored Sai Kung Country Park in the wild northeast of Hong Kong, that is.
In this sparsely populated region I encountered wild cattle roaming mountain ridgelines and abandoned villages tucked away in lush green valleys.
I made these discoveries while hiking with Paul Etherington, a British expatriate who runs an outdoor adventure tour company specializing in the Sai Kung peninsula. Sai Kung Country Park occupies the northeast corner of the New Territories, the largely undeveloped hinterland of Hong Kong. The park covers over 30,000 acres of sub-tropical forest, mountainous upland, and convoluted coastline pocked with inlets and beaches.
A Hong Kong resident for 25 years, Etherington navigates the labyrinthine trails of Sai Kung as effortlessly as local taxi drivers negotiate the maze-like streets of Kowloon and Central. A dedicated kayaker, hiker and trail runner, Etherington has represented Hong Kong in international windsurfing and mountain-biking competitions. He put all of this specialized knowledge and experience to work when he founded Natural Excursion Ideals (NEI) in 1998, a company offering kayaking and hiking trips in Sai Kung Country Park, Hong Kong's largest protected green space.
Etherington decided to go into business when he realized that nobody in Hong Kong offered guided outdoor adventure excursions in Sai Kung and the territory's many other country parks. Six years after founding NEI, he still doesn't have any direct competitors, though he eagerly endorses eco-friendly companies and organizations that share his commitment to the preservation of Hong Kong's flora and fauna.
Hong Kong is an international city with a large and diverse expatriate community, which allows Etherington to cater to a wide variety of clients. European, North American and Australian expatriates make up his core market, though he also books Western tourists as well as middleclass Hong Kong Chinese.
In the hot and rainy spring and summer months, Etherington leads kayaking trips along the rocky coves and inlets of Sai Kung.
"You can actually escape quite easily," Etherington says. "You can literally jump in a kayak and be by yourself on a really nice beach. You can really get away."
To reach secluded locations with the best kayaking, which feature coral reefs, sea caves and rock arches large enough to paddle through, Etherington loads up to seven kayaks aboard his 30-foot fast pursuit craft. Powered by twin 250-horsepower engines, a full-throttle ride aboard the FPC is often the highlight of kayaking trips.
"Probably a few of the British marines would have used [my FPC]," says Etherington, who bought the boat at a marine police surplus equipment auction. He now takes the FPC out on the same waters where the police once used it to chase the high-speed tai fei smuggling boats that ran red-hot Mercedes from Hong Kong to the mainland. In the cooler and relatively dry months of fall and winter, Etherington leads hiking trips into Sai Kung.
"You can be on top of a hill and not see skyscrapers," Etherington says of these hikes. "There's no roads out there, just jungle trails. You walk by graveyards, old villages, people drying fish. You've always got sea views and sea breezes."
Originally from Yorkshire, Etherington moved to Hong Kong at age 16 when his father began working for the MTR, Hong Kong's extensive subway system. The younger Etherington fell in love with his adopted home, married into a local family, and never returned to England. For many years he lived in Hoi Ha, a tiny seaside village nestled deep in Sai Kung Country Park. Though he has since moved out of the park to the more developed Clear Water Bay, his love of Sai Kung's unspoiled valleys and mountains remains as strong as ever.
"I feel like I'm attached to the area and I protect it a little bit," Etherington told me as we drove up to the gates of Sai Kung Country Park after a 40-minute ride from the urban chaos of Kowloon.
The park staff checked Etherington's pass, which allowed him to continue driving down the restricted-access road that runs deep into the heart of Sai Kung. The road twisted and turned through overgrown valleys, green hills, and jumbled ridges. Periodically ocean views swung into sight, revealing the aqua waters of coves rimmed by lush greenery. Though we were driving on the only road in the park, Etherington and I encountered little traffic beyond the occasional minibus or public-works vehicle. Bright yellow signs warned us to watch out for road-hogging cows, the largest wild animals in the park -- or anywhere else in Hong Kong, for that matter.
I'd asked Etherington to take me on a short hike that would offer a representative example of Sai Kung's extensive trail system. He chose an hour-long hike near Hoi Ha village, his former home. After parking by the side of the road, we set off for the trailhead by walking down the center of the pavement, an exercise that would have quickly gotten us killed anywhere else in Hong Kong. In tranquil Sai Kung, however, we could use the road like a giant sidewalk without fear of being run over, since the park was quiet enough for us to hear the occasional vehicle long before it came around the nearest bend. This amazed me, for I'd grown used to the urban cacophony of Hong Kong, a headache-inducing frenzy of thumping pile-drivers, screaming traffic horns, and rattling jackhammers. As we walked down the park road, however, I heard only the shrill whine of insects and the occasional bird call.
Etherington soon turned off the road and led the way up an overgrown path known to only the most experienced hikers, which necessitated that he literally break trail. The two of us headed uphill in the sticky July heat with the tan and fit Etherington in the lead and clearly in his element. Unlike many of the park's more well-known trails, the path had never been paved or equipped with concrete steps. The hard-packed dirt track featured neither emergency call phones nor trail signs -- just the fluttering ribbons left by orienteering clubs. Following the leave-no-trace ethos that he believed all hikers should follow, Etherington removed these ribbons and gathered up stray bits of trash as he walked.
Halfway up the hillside we could hear a heavy-footed creature busting slowly through the underbrush. I remembered all those cattle-crossing signs, and sure enough, a lone wild cow soon plodded into view. She clearly had no fear of Etherington and I. In fact, she and her fellow free-ranging bovines had no fear of anything, not even oncoming traffic, since they no longer faced any natural predators.
The last tigers in Hong Kong were killed long ago, though the big cats didn't go down without a fight. In one celebrated incident in 1915, a particularly feisty tiger mauled a policeman to death before going down from multiple gunshot wounds. I'd seen this tiger's head on display at the Hong Kong Police Museum, a quirky repository of strange law-enforcement artifacts.
These days the Hong Kong police keep the public safe from Triad gangs and other predators of the urban jungle. The police spend relatively little time patrolling the real jungle, but on the other hand, I figured stepping in a cow pie represented the greatest threat facing a hiker in Sai Kung. Either that or stepping on a snake.
Etherington agreed. "I've had the odd python," he said, but added that very few of his clients had ever managed to see a snake and none had ever been bitten. Though sightings and bitings remained rare, Hong Kong certainly had its share of venomous serpents, which ranged from the sizeable king cobra to the smaller but still dangerous banded krait, coral snake, and red-necked keelback.
"This time of year you get banana spiders, or woodland spiders," Etherington told me as he bushwhacked uphill without a trace of arachnophobia. "I'm surprised we're not seeing them."
We were passing through a particularly overgrown stretch of trail at this point, and the underbrush gripped our arms and legs like velcro. I kept an eye out for plate-sized banana spiders and pythons thicker than fire hoses, but only spotted a few small lizards -- Hong Kong boasts 19 native species -- and numerous butterflies and dragonflies.
Overhead the sky had turned silver with heat, raising the temperature into the mid-90s (35 Celsius). I began to understand why Etherington led relatively few hiking excursions during the summer months, given that a hiker could easily dehydrate past the danger point in such extreme conditions.
"The main thing is you've got to look at safety [when hiking in the summer]," Etherington told me. "We do get one or two hospital cases this time of year. People don't carry enough water."
Running out of water was a mistake Etherington did not intend to make, as evidenced by the bottles of water stuffing his waist pack. He pulled out two of the bottles, and though the liquid had turned hot as a bowl of rice noodles, we happily drained them anyhow.
As we trekked higher the forest gave way to a mixture of grass and brush, a landscape common to the upper elevations of Hong Kong. Soon we reached a rounded summit. We had the hilltop to ourselves, though the litter of shell casings from 7.62-millimeter automatic rifles indicated that in the past we would have shared the hill with British Army soldiers out on jungle-warfare training exercises. Sai Kung no longer echoed with the sound of gunfire, but the quiet of the park periodically gave way to the muffled rumble of airliners following the flight path into the new airport at Chek Lap Kok.
From the summit we could see a significant chunk of the Sai Kung peninsula. To the north, beyond a line of ridges, lay Hoi Ha village. To the east stretched the waters of the accurately named Long Harbour (Tai Tan Hoi), with the just as aptly named Grass Island (Tap Mun) sitting out beyond the mouth of the wide inlet. To the west rose some of the highest peaks in Hong Kong.
"Just over those hills is seven million people," Etherington said, pointing south.
Pictures of Hong Kong invariably feature sleek steel-and-glass skyscrapers, chaotic streets choked with crowds and traffic, and multicolored neon nightscapes. While these photographs present an accurate picture of urban Hong Kong, they hardly offer a complete portrait of the entire territory. After all, urban areas comprise just 30% of Hong Kong. Unprotected rural or semi-rural areas make up another 30%, while an impressive 40% remains protected parkland. Unlike most Chinese cities, Hong Kong has managed to preserve and protect large swathes of green space.
"To be honest, Hong Kong is probably the greenest area in the region," Etherington told me as we began our hike back down to the road.
He explained that this wilderness conservation stemmed from the mountainous nature of Hong Kong, where knife-sharp ridgelines and jutting peaks provide a natural barrier against urban sprawl. The green character of Hong Kong also owed much to the colonial British administration's interest in parkland preservation and reforestation. In the 1970s, Hong Kong governor Sir Murray MacLehose founded the country parks system to promote wilderness conservation, environmental education, and outdoor recreation. The need for such a park system remained obvious, as booming development threatened to further degrade or even destroy the territory's remaining green spaces, which had already been deforested by villagers in search of firewood and building materials.
"Reforestation has been a big part of Hong Kong," Etherington said, and stopped to point out an expanse of evenly spaced paperbark trees, a non-indigenous tree planted by the government. "I wouldn't know where you can say there's a natural woods in Hong Kong."
In place of the long-lost old-growth forests of Sai Kung, which had fallen to the ax long before the British wrested control of Hong Kong from China in the 1840s, newly planted ranks of trees now stretch in soldierly rows over what used to be bare hillsides or rice terraces. Remnants of the primeval forest survive only in inaccessible upland ravines and the sacred feng shui groves found behind the many deserted villages strewn across Sai Kung. For both spiritual and practical reasons the villagers nurtured and protected these groves, which were partly natural and partly planted. Nearly all groves feature bamboo, camphor trees, lacquer trees, tallow trees, incense trees and at least one ancient banyan tree at its core. Over time these groves served as biodiversity banks that preserved Hong Kong's flora and fauna.
When the colonial administration established the country parks system in the 1970s, a number of villages ended up inside the border of Sai Kung Country Park. The villagers continued to plant their rice terraces, an age-old way of life that their sons and daughters wanted no part of. As the older villagers died off and their children moved away to urban areas, the villages fell into disrepair. The rice terraces disappeared beneath new overgrowth; the cows that pulled the plows were turned loose to fend for themselves. Soon partially or completely deserted villages dotted Sai Kung Country Park in the Hong Kong equivalent of American ghost towns.
"I always go through these villages [on my hikes]," Etherington told me. "Because of their remote location they're abandoned."
We lacked the time to trek into one of the more isolated ghost villages, but fortunately Etherington knew of one that could be reached by car. Wong Chuk Yeung village lay at the end of a steep and twisting concrete road. The lush overgrowth pushing out over the curb revealed how little traffic moved on that narrow road, which was nonetheless a well-maintained thoroughfare that ended at a smoothly paved and completely empty parking area for a village that appeared to be completely deserted.
From the outside, the tiny village resembled a gray-walled fortification without windows or doors. Like a chronic introvert, the village looked inward and gave nothing away to outsiders. Feeling less than welcome, I entered this compact warren of buildings by stepping into a debris-choked alleyway that functioned as a sort of miniature main street. Narrow houses with tiled roofs lined both sides of the alley, but I saw no sign that anyone had lived in them for many years. Some of the homes had locked and barred doors, but many more were broken open like giant eggs, their interiors open to inspection. One dilapidated home hosted a large bat colony; another house lacked a roof but still had dishes in the cupboard beside a huge brick kitchen stove, as if the village had been abandoned in great haste. Some buildings had simply collapsed.
Etherington explained that though the houses of Wong Chuk Yeung might be derelict, their absentee owners still claimed them as their official residences in order to preserve their rights to the land. For this reason, the government continued to provide basic services to the village, and this veneer of modern-day Hong Kong lent the place an almost surreal atmosphere. Electric lines powered buzzing streetlights, their bulbs glowing in the gloomy shadows. When I turned the handle on a water main, fresh water gushed forth. Junk mail and government notices had been dutifully delivered, though there was nobody to collect it, and the sodden papers littered the front steps of the empty homes. The police regularly patrolled the village, but I doubted this explained the remarkable lack of graffiti or other vandalism. I chalked that up to the uneasy ghosts that guarded the village instead.
In visiting Wong Chuk Yeung I'd discovered yet another of the startling contrasts that make Hong Kong one of the world's most fascinating places. In a city where housing is at a premium and most people live in small high-rise apartments, homes in the countryside sit abandoned. This has certainly been to Sai Kung's advantage, as the depopulation of the villages has ensured that the park grows more wild each year. However, the risk remains that the former villagers will sell their property to land developers. If these developers then secured government approval for new construction, great damage could be done to the park.
Aside from this very real threat to Sai Kung, Etherington also worries that companies like his can be a "double-edge." His hiking and kayaking excursions introduce Hong Kong's vocal expatriate community and increasingly influential Chinese middleclass to Sai Kung Country Park. Hopefully, this will lead both groups to value this unspoiled wilderness area and clamor for its protection.
However, the increasing number of hikers and boaters visiting Sai Kung will further stress the park's environment. Development will inevitably follow, be it paving the hiking trails or bulldozing new parking lots for buses. The distance private cars can drive down the restricted access road into the park, which has already been extended once, may well be extended again. Changes such as these will clearly threaten the park's future as an undeveloped nature preserve.
As for Paul Etherington, he has no doubts about what must be done to keep the park pristine.
"We've got to protect it," Etherington says of Sai Kung. "We've got to seal it off to overuse and development so that everyone walking or kayaking in can go back to nature."
* * *
Fact File:
Natural Excursion Ideals Company Ltd.: NEI is an outdoor adventure tour company specializing in excursions to Sai Kung Country Park, Hong Kong's largest undeveloped green space. Company owner Paul Etherington is an expert on the mountains, forests, waters and beaches of Sai Kung. He can design tailor-made hiking and boating excursions designed to showcase the natural environment and traditional village life of Sai Kung. Contact information: NEI Company Ltd., Rm. 5705, 57/F, The Center, 99 Queen's Road, Central, Hong Kong. Telephone/fax: (852) 2486-2112. Mobile phone: (852) 9300-5197. Email: paul@kayak-and-hike.com. Website: www.kayak-and-hike.com.
Maps and Guidebooks: While the main trails in Sai Kung Country Park are well signed, secondary trails are not. This makes carrying a map a good idea. Fortunately, the Survey & Mapping Office of the Lands Department publishes the excellent Countryside Series of topographical hiking maps. In fact, their map of the Sai Kung peninsula is the best map available for exploring the wilds of Sai Kung Country Park. Given its high quality and obvious practical value, the map is a bargain at HK$50 (US$6.50). Purchase the map at Bookazine (Pacific House, 20 Queen's Road, Central) or go directly to the Government Publications Centre (Queensway Government Offices, 66 Queensway, Admiralty).
For general background on Sai Kung Country Park and other protected green areas of Hong Kong, I recommend Exploring Hong Kong's Countryside: A Visitor's Companion, by Edward Stokes. A treasure trove of information on Hong Kong's flora and fauna, this book comes beautifully illustrated with full-color photos of Hong Kong's parks. The book also provides practical information on a variety of hikes that range from easy strolls to grueling climbs. You can purchase the book at Hong Kong Tourism Board offices located in the Kowloon Star Ferry terminal and basement of The Center at 99 Queen's Road, Central.
* * * * *
---